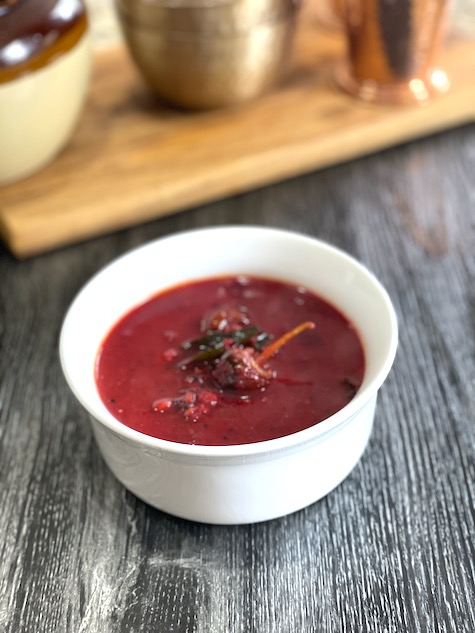 Rasam is a traditional South Indian dish that is typically consumed with rice or as a soup. It is known for its tangy and spicy flavor, and there are many variations of rasam.
Over the years, I've experimented with various rasam adaptations incorporating ingredients such as pineapple, chana dal, cilantro, mint, and more.
The other day, as I was preparing a batch of rasam, my attention was drawn to a beetroot that had been quietly resting in my refrigerator. Without hesitation, I decided to include beetroot in my rasam, and the results were truly remarkable. The vibrant color of this particular rasam is simply stunning.
Beetroot rasam is a delicious and healthy dish that pairs beautifully with rice.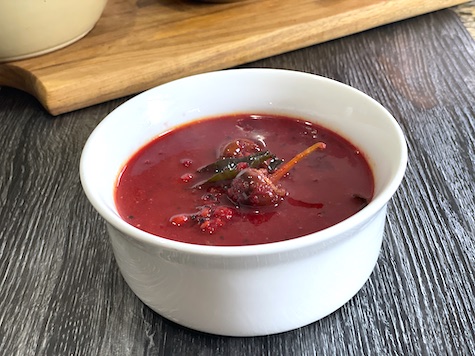 Beetroot Rasam - South Indian Recipe
Ingredients
To grind
Shallots- 1 large or 3 small onions
Ginger- 2-inch slice
Garlic- 3 cloves
Tomato, chopped- ½ of a tomato
Whole peppercorns- ½ tsp
Cumin seeds- 1 tsp
Water- ¼ cup
For cooking
Coconut Oil- 1 tbsp
Mustard seeds- 1 tsp
Chana dal- ½ tbsp
Urad dal- 1 tsp
Dried red chilies, halved- 2
Curry leaves- 8 leaves
Salt- 1½ tsp
Asafoetida- ⅛ tsp
Tamarind extract- ½ cup
Beetroot, chopped small- 1, small sized
Warm water- 1½ cups
Instructions
To a blender jar, add all ingredients mentioned to grind & grind to a coarse paste.
Soak 2-inch slice fresh tamarind in ½ cup lukewarm water & let soak for 5 minutes. After that squeeze the tamarind in water to extract the juice, strain the juice & discard the skin.
To a hot clay pan or saucepan, add oil.
Add mustard seeds, let splutter.
Add chana dal & urad dal, saute till they turn golden in color.
Add dried red chilies & curry leaves.
Add the ground paste, combine well & cook for a minute.
Rinse the blender jar with ½ cup water & add that. Cook for a few minutes till the raw smell goes away.
Add salt & asafoetida, combine well.
Add tamarind extract, cook for 2 minutes.
Add chopped beetroot & cook covered till the beetroot turns soft.
Add 1 cup water to thin down the gravy & cook for a few minutes, let rasam come to a slight boil.
Take the pan off the heat, enjoy as soup or pour over rice & enjoy.