Poached egg in roasted coconut gravy, one of my favorite egg curries…
In Kerala cuisine, there are many dishes that can be made with eggs. One of the evening snacks loved by most people is Egg puffs, in which hard boiled egg roast is used to stuff the puff pastry. Egg curries can be made many ways, most delicious egg curries are made by adding coconut milk or ground coconut.
I'd already posted the recipe for making a few egg curries, here are the recipes.
My most favorite egg curry is this one obviously made by my mom, in which eggs are poached in roasted coconut gravy. I'm not a huge fan of eggs, but the eggs that are cooked in this curry tastes extremely delicious and I'll be seen enjoying two or three of 'em. The fresh grated coconut is roasted till golden brown in color, combined with aromatic spices and cinnamon and made into a paste. The eggs are cracked directly into the boiling coconut gravy and allowed to cook. It's more like poaching the eggs in the aromatic coconut gravy.
After a few minutes of cooking, the nice aroma from this curry will spread your kitchen and will make you hungry. The taste of this egg curry is phenomenal, you'll fall head over heals for this yummy egg curry just like me.
I love the combination of this curry along with Idiyappam or steamed rice noodles (string hopper), tastes incredible!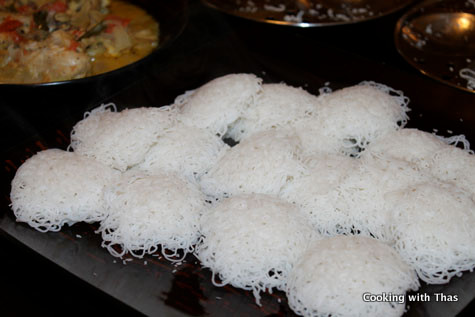 Preparation Pictures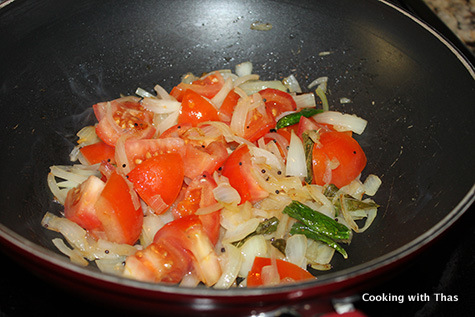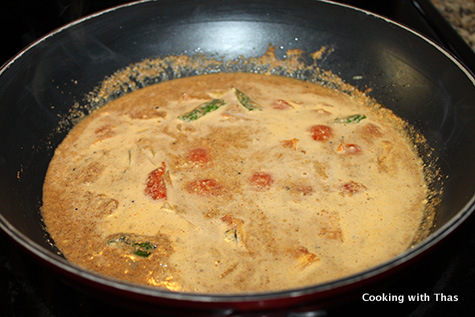 Egg curry in Roasted Coconut Gravy- Egg Curry Recipe
Ingredients
To roast and grind
Oil- 1 tbsp
Coconut, grated- 1½ cups
Curry leaves- 1 sprig
Chili powder- 1 tsp
Coriander powder- 1 tsp
Fennel powder 1 tsp
Whole cinnamon- 1 inch slice (must add)
Water- ¾ cup
While cooking
Oil- 1 tbsp
Mustard seeds-1 tsp
Curry leaves- 1 sprig
Onion, chopped- 1
Green chilies, halved- 2 or 3
Tomatoes, chopped 2
Ground pepper- ¼ tsp
Water- ½ cup
Eggs- 4
Salt- to taste
Instructions
Place a non-stick pan over medium heat, add oil.
Add grated coconut and curry leaves, saute till coconut turns golden brown in color.
Add chili powder, coriander powder, fennel powder and whole cinnamon, combine well and immediately remove the pan from the heat. Don't burn the spices.
After the roasted coconut cools down, grind them in a blender along with ¾ cup water till smooth.
Place a wide pan over medium heat, add 1 tbsp oil, let the oil turn hot.
Add mustard seeds, let it splutter.
Add curry leaves, saute for a second.
Add onion and green chilies, season with salt and cook till translucent.
Add tomatoes, cook for a minute.
Add the ground coconut paste, combine well.
Add ½ cup water to thin down the gravy.
Taste, add more salt to taste and ground pepper, combine well
Let the gravy come to a boil.
As soon as the coconut gravy comes to a boil, crack the eggs directly into the gravy without crowding the eggs.
Cook for 4 to 5 minutes till the eggs have cooked well and the gravy thickens.
Don't stir the curry too much as the eggs will break apart.
Remove the pan from the heat and keep covered for a few minutes.
Serve this curry with Idiyappam, orotti, chapathi, pathiri etc.
Notes
You could even add hard boiled eggs for making this curry- when the coconut gravy comes to a boil add the hard boiled eggs and cook for a few minutes.