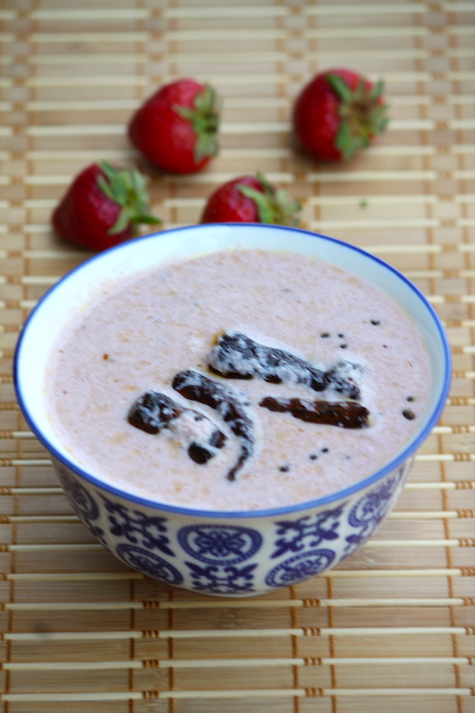 Turn strawberries into a delicious Kerala style savory dish: Pulissery…
Pulissery is one of the popular vegetarian dishes in Kerala, it's also served along with Sadya. Pulissery is a gravy based dish made by cooking ground coconut and yogurt, both veggies & fruits can be added to the gravy.
Pulissery can be made with beetroot, cucumber, pineapple, pumpkin, and ripe mangoes. The preparation method for all these is almost the same, the only change is with the main ingredient. Every time, I buy strawberries, I'm hit with the thought of making strawberry pulissery. Yet, I kept delaying. One of my friends tried this pulissery and posted the video on FB. That tempted me and here I'm sharing the recipe for making strawberry puliseery with you guys.
Before you frown upon the thought of making a savory dish out of strawberry, let me reassure you this didn't taste weird instead tasted absolutely delicious that you will be glad you tried this.
The mild sweetness from the strawberry, slight sourness from the yogurt, and the spiciness from the green chilies made this a splendid dish. The taste of strawberry wasn't that intense, it was subtle and exquisite. If you are up for cooking something different with strawberry, this one is for you.
This is served as a side dish with rice, white or brown rice.
Strawberry Pulissery or Strawberry in Coconut and Yogurt Sauce
Ingredients
Ripe Strawberries, chopped- 1 cup
Salt- ½ tsp
Water- ¾ cup
To Grind
Coconut grated- ¾ cup
Green chilies chopped- 1
Cumin seeds- ½ tsp
Other ingredients
Yogurt or Curd- 1 cup
Salt- ½ tsp
For Seasoning
Mustard seeds- 1 tsp
Whole red chilies- 2
Curry leaves- 1 sprig
Coconut Oil- 1½ tbsp
Instructions
In a saucepan, cook chopped strawberries along with salt and water until strawberries turn soft and slightly mashed up.
Grind all the above mentioned ingredients 'to grind' in a blender to a smooth paste.
Add the ground coconut paste to the cooked strawberries, cook for 5 minutes.
In a bowl, beat the yogurt well using a whisk or fork.
Lower the flame and add the beaten yogurt/curd to the strawberry-coconut, stirring constantly.
Add ½ tsp more salt.
Cook for 2 minutes.
Mix everything gently and remove the pan from the flame. Don't boil the yogurt mixture as it will curdle.
In a fryingpan, heat coconut oil, add mustard seeds, let it splutter.
Add whole red chilies and curry leaves, saute and remove the pan from the heat.
Add the easoning to the strawberry/coconut/yogurt mixture, close the pan with its lid, allow it to rest for sometime, let the aroma of fried mustard seeds/chilies & curry leaves get into the pulissery.
Serve as a side dish along with white or brown rice.
Notes
You can use grated beetroot, ripe mangoes, ripe pineapple, ripe plantain or diced cucumber instead of strawberries.