A healthy snack to enjoy without any guilt…
Puffed lotus seeds or Phool Makhana in Hindi or fox nuts are common in the Northern part of India. Mostly enjoyed as snacks or added to curries. While growing up in South India, I haven't had this it was not found in the South Indian groceries at that time. After I'd moved to North America, I found these in the Indian stores. Out of curiosity I bought a pack and roasted them in ghee, it was love at first bite for me. I enjoyed the crispy crunchy ghee roasted puffed lotus seeds. Since then, I've been regularly buying these puffed seeds. Its crispy texture resembles popcorn, however, puffed lotus seeds have amazing health benefits.
Rich in nutrients
High in antioxidants
Great for weight loss
Has anti-aging properties
Promotes heart health
Stabilize blood sugar levels
These puffed seeds have to be roasted that's when they will turn crispy. I love roasting them in ghee, ghee will impart a nice flavor to these seeds. Besides being enjoyed as a snack, can be turned into a delicious dessert- kheer and can be added to curries as well.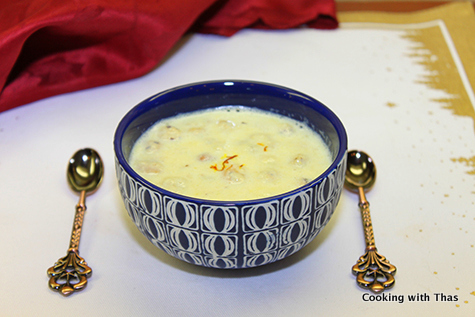 The other day, I made a salad with the roasted puffed lotus seeds, which tasted really good & is healthy.
Healthy Puffed Lotus Seeds Salad | Phool Makhana or Fox Nuts With Amazing Health Benefits
Ingredients
Puffed lotus seeds or fox nuts- 3 cups
Ghee- 1 tbsp
Toppings
Onion chopped- ¼ cup
Tomato chopped- 1 tomato
Spinach or any green chopped- ¼ cup
Cilantro chopped- 2 tbsp
Cooked chickpeas- 1 cup
Mint chutney- 2 tbsp
Chaat masala- 1 tsp
Making Homemade Mint Chutney
Mint leaves- ½ cup
Cilantro leaves- ¼ cup
Green chilies- 1 or 2
Ginger- 1 inch slice
Cumin powder- ½ tsp
Salt- ½ tsp
Water- ¼ cup
Instructions
Place a large pan over medium heat, add ghee.
Add the puffed lotus seeds, roast for 10 minutes till they turn crispy and light golden in color.
Puffed lotus seeds have to be roasted well, only then they will turn crispy otherwise will be soggy.
I make homemade easy mint chutney, to a blender jar add all the above-mentioned ingredients for making mint chutney. Grind till smooth, can be made ahead of time & kept in the refrigerator.
To a large bowl, add the roasted puffed lotus seeds and all the toppings.
Cooked potatoes cut into small bite sizes can also be added.
Mint chutney will be spicy & tangy, so add based on your needs.
Yogurt can also be added.
Combine everything well.
Enjoy this salad right away. If this is kept for a while, puffed lotus seeds will turn soggy & will lose the crispy texture.
After roasting the puffed lotus seeds in ghee, they can be stored in an air-tight container for a few weeks.