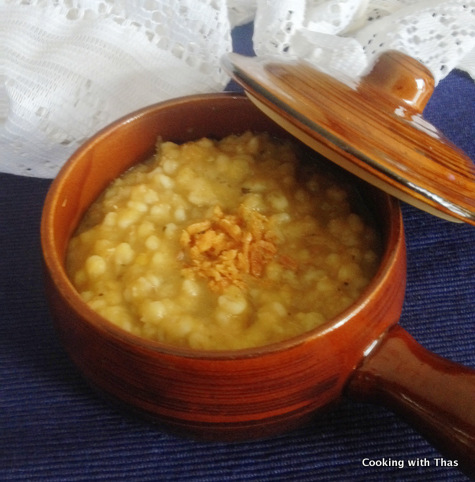 Healthy and hearty soup that has the goodness of barley…
If you haven't tried barley yet, it's high time you include barley into your diet so that you can benefit from this amazing cereal grain. It has remarkable health benefits: high in fibre, lower the risk of type 2 Diabetes, fights against breast cancer and many more.
One of the ingredients in Haleem is barley which is added along with wheat and other lentils. Barley is added commonly in salads and also while making stews. The other day, I made a soup with barley and squash. This soup is one of the healthiest soups and tasted delicious too.

Squash and Barley Soup - Healthy Barley Soup
Ingredients
Oil- 1 tbsp
Whole cardamom-2
Bay leaf-1
Squash, diced-2 cups
Barley, rinsed- ½ cup
Red lentil- ¼ cup
Coriander powder- 1½ tsp
Kashmiri Red chili powder-1 tsp
Ground Cumin- ½ tsp
Dried Oregano- 1 tsp
Dried Basil- 1 tsp
Ground pepper- 1 tsp
Water- 3 cups (or add chicken stock)
Fried onion- ½ cup
Salt- to taste
Instructions
Place a pressure cooker over medium heat. Add oil.
Add whole cardamoms and bay leaf.
Add diced squash, saute for a few minutes.
Add barley and red lentil.
Add coriander powder, chili powder, ground cumin, dried oregano, dried basil, ground pepper and salt. Combine well.
Add water (or chicken stock), close the cooker and cook for 3 to 4 whistles.
After the pressure subsides, open the cooker.
Combine the cooked squash and barley.
If the soup is thick, add enough water to thin it down.
Add fried onion, combine well and cook for a few minutes.
Have a taste and add salt if needed.
Serve the soup warm and enjoy.