Perfectly puffed-up pooris are a treat to the eyes and taste buds…
Puffed poori, also known simply as "poori" or "puris," is a popular Indian fried bread made from unleavened wheat dough. It is a staple in many Indian households and is commonly served for breakfast, lunch, or dinner. Pooris are loved for their crispy and puffed texture, making them a delightful accompaniment to various Indian dishes.
Initially, I wasn't that good at making pooris, the pooris were hesitant enough to puff up and that made me weep like a baby.
I didn't give up that quickly, I wanted to master the art of poori making. So, I tried making it a few times and realized that I was doing a few things really wrong. When I corrected those, all the pooris I'd made started to puff up like a balloon and looked spectacular too. Yay, I rock!
For those who want to make perfect pooris, here I am sharing a few tricks:
Poori dough should be a little firm not too soft (while chapati dough should be soft).
Rolled poori dough shouldn't be too thin, it should be slightly thick.
The oil for frying pooris must be hot. Before starting to fry, drop a small piece of dough into the oil if it floats on the top immediately the oil is hot enough.
The dough should be completely submerged in the oil, so there should be enough oil.
As it starts to fry, press gently with a slotted spoon. This will help it puff up. You'll see it swell and turn golden brown. If the oil is at the perfect temperature the poori will puff up by itself.
For making crispy pooris: Add a tablespoon of Semolina or rava along with the wheat flour.
When you follow these and the recipe, you will make amazing puffed-up pooris. Enjoy!
Preparation Pictures
Making pooris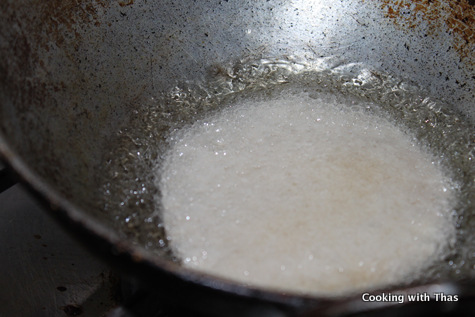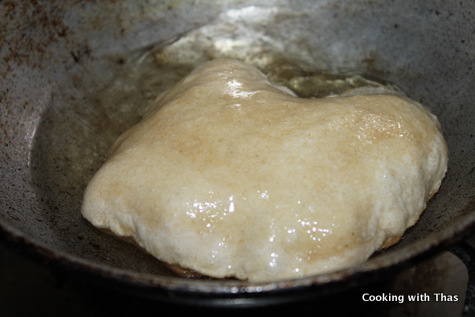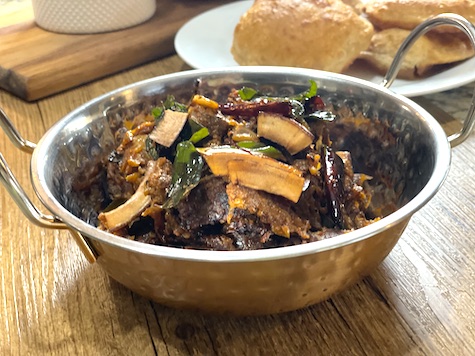 Poori - Fried Wheat Bread
Ingredients
Wheat flour or Atta- 2 cups
Semolina or Rava- 1 tbsp
Salt- ½ tsp
Oil- 2 tsp
Water- 1 cup
Oil- for deep frying
Instructions
In a bowl, combine the wheat flour, semolina, salt, and oil till crumbs have formed.
Semolina will make the poori crispy.
For 2 cups flour, I've added 1 cup water.
Gradually add water while kneading the dough.
The dough has to be smooth and firm. Not too soft, not too hard.
Cover it with a damp cloth and let it rest for about 10 minutes. This helps the gluten relax and makes it easier to work with.
Divide the dough into small, equal-sized portions.
Grease a wooden or chapati board with oil.
Place the dough ball on it & roll it to a small slightly thick round shape.
Don't keep aside the rolled dough for too long, it will get dry, fry it as soon as you roll it.
Heat some oil in a pan over medium-high heat.
You can check if the oil is hot enough by dropping a small piece of dough into it. If it sizzles and rises to the surface, it's ready.
Make sure to have enough oil, the dough should submerge in the oil completely.
Carefully slide in one of the flattened dough into the hot oil.
As it starts to fry, press gently with a slotted spoon. This will help it puff up. You'll see it swell and turn golden brown.
If the oil is at the right temperature, the poori will puff up by itself.
The oil has to be hot otherwise the poori won't puff up.
After it's completely puffed up, flip it over and fry for a few more seconds.
After the poori has turned golden in color, using a slotted spoon take it out of the oil and transfer to a plate lined with a paper towel.
Poori should be served hot to retain the puffiness, it will lose its puffiness when it turns cold.
Poori can be served with chicken or beef or mutton roast or with vegetable stew or potato masala.
Enjoy.