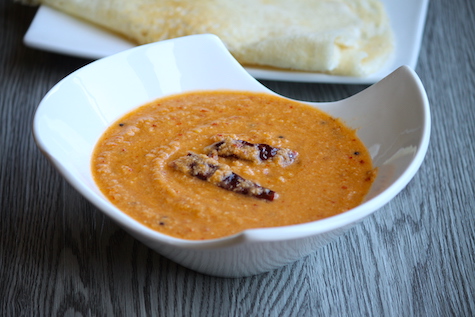 This has been my favorite coconut chutney, perfect with dosa, idli or appam…
Many South Indian dishes are served with chutneys especially Dosa & Idlis. Chutney is comfort food with its spicy and tangy taste. There are a few chutneys that can be made without the addition of coconut. However, my favorite is chutneys made with coconut. In this recipe, I've also added onion & tomato and whole red dried chilies impart the required heat.
Give it a try and this will turn into your favorite chutney.
Cooking Video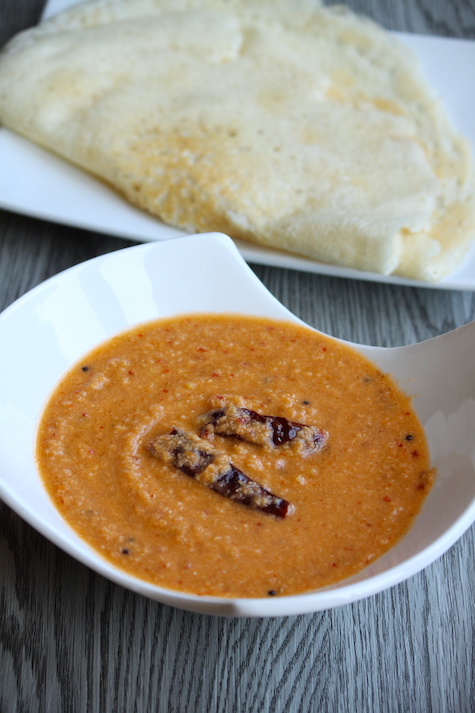 Best Tasting Coconut Chutney
Ingredients
For Roasting
Coconut oil- 1 tbsp
Chana dal- 1 tbsp (optional)
Shallots or small onions, sliced- 2 shallots or 4 small onions
Garlic, chopped- 2 cloves
Ginger, chopped- 1 tbsp
Whole dried red chilies- 3 or 4
Cumin seeds-1 tsp
Tomato, chopped- 1
Coconut, grated- 1 cup
Water- 1 cup
For cooking
Coconut Oil- 1 tbsp
Mustard seeds- 1 tsp
Whole dried red chilies- 2, halved
Curry leaves- 1 sprig
Tamarind extract- 2 inch slice soaked in ¼ water for 5 minutes
Salt- 1 to 1½ tsp
Water- ¼ to ½ cup
Instructions
In a bowl, soak 2 inch slice tamarind in ¼ cup water for 5 minutes. Squeeze the tamarind in water, drain the extract and discard the skin.
Place a pan over medium heat, let turn hot.
Add coconut oil, followed by chana dal; let turn light golden brown.
Add onion, ginger, garlic, dried red chilies, cumin seeds, tomato and coconut. Saute and roast for a few minutes till coconut turns golden in color.
Remove pan from the heat, let cool down.
Add to a blender jar along with 1 cup water and grind to a coarsely smooth mixture.
Place a pan over medium heat, add oil.
Add mustard seeds, let splutter.
Add dried red chilies & curry leaves.
Add the ground coconut, combine well.
Add tamarind extract.
Add salt to taste & add ¼ to ½ cup water to thin down the chutney; cook for 2 minutes.
If you prefer thick chutney, you can skip adding water.
Serve into a bowl and enjoy with dosa, idli, appam etc.