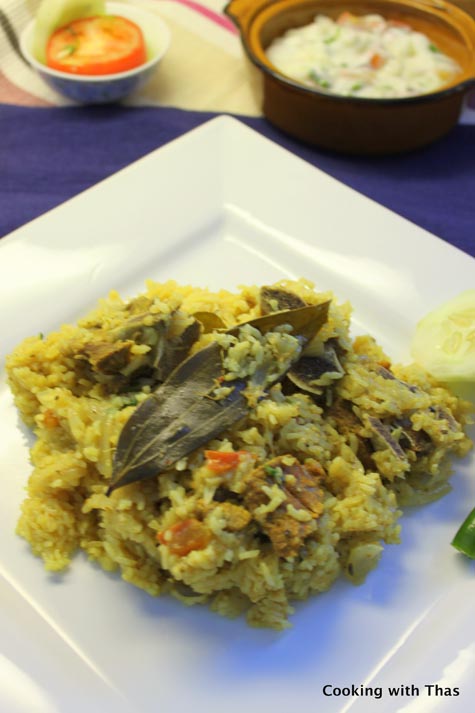 Absolutely delicious and refreshing biryani…
Goat meat is known as mutton in India, mutton is more popular than lamb over there. However, in North America lamb is popular, it's very hard to find really good mutton over here. Well, I am not a huge fan of mutton and lamb. For this reason, I seldom cook mutton. When I visited my parents in India last year, my mom had made a few dishes with mutton and it tasted fabulous. In my home state (Kerala) we get fresh cut mutton, hence it tastes really good without that intense smell.
It was on my to-do list to make mutton biryani. While searching for good recipes I stumbled upon this blog: Solai's True Chettinad Kitchen, the name says it all, this blog only has Chettinad recipes and is written by an authentic Chettinad lady. What more do I need?
Chettinad is a region in Tamil Nadu and they are popular for their spicy and flavorful cuisine. I'd tried a couple of Chettinad chicken dishes at a restaurant in the US a few years ago, and I tell ya that didn't taste that authentic. I think I should visit Chettinad sometime to taste all the delicacies. However, from the research I get the feel that Chettinad cuisine is very similar to Kerala cuisine; both are flavorful, spicy and coconut is used for making most of the dishes.
Now that I bought mutton, I wanted to make biryani quite differently, so my choice was Chettinad style. I would say Chettinad preparation style is quite similar to how I make biryani: cooking the mutton, then making the masala and finally cooking the rice in the meat stock. In this recipe, fennel seeds are used instead of ground fennel which makes the biryani aromatic. Also, mint leaves are made into ground paste along with the other ingredients and is added while cooking the masala. Mint leaves impart the refreshing aroma and taste to this biryani. I loved the aroma and taste of this biryani so much.
Recipe Source, click here (I adjusted the spice level according to my needs and also increased the amount of rice).
For more delicious Biryani Recipes, click here.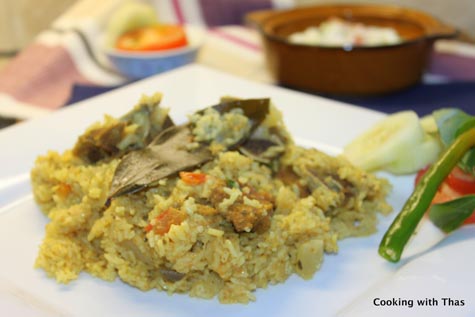 Preparation Pictures
Marinated Mutton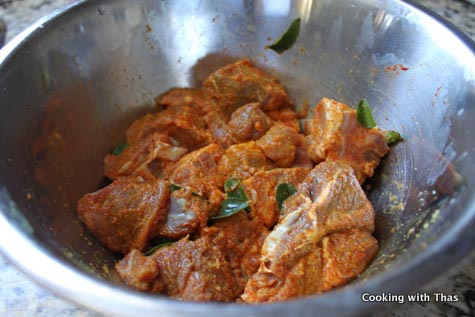 Cooked Mutton with the stock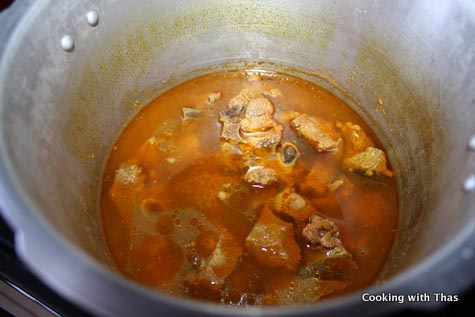 Cooked mutton separated from the stock or gravy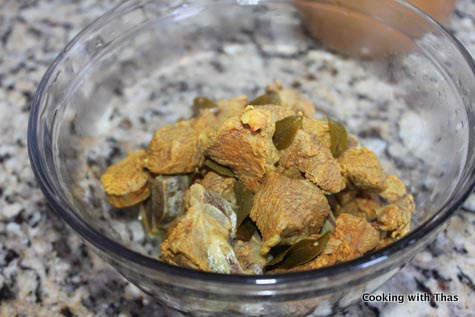 Cooking Masala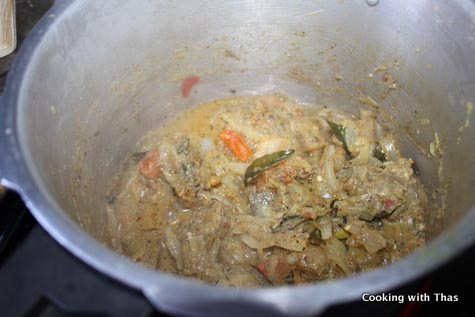 Roasting Rice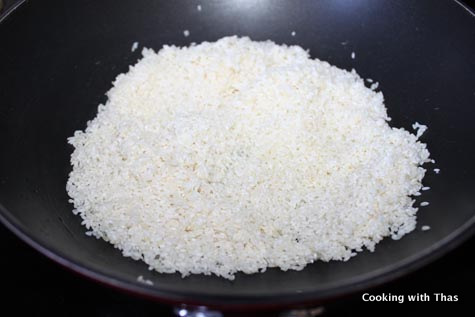 Cooked Mutton Biryani
Chettinad Mutton Biryani - Goat Biryani
Ingredients
For marinating Mutton
Mutton or Goat meat, bone-in pieces- 1 lb or ½ Kg
Chili powder- 1½ tsp
Turmeric powder- ½ tsp
Ginger-Garlic paste- 1 tbsp
Curry leaves- 1 sprig
Salt- to taste
To grind into a coarse paste
Whole dried red chili- 1
Green chili- 1
Small onions or pearl onions, chopped- 5
Garlic, chopped- 2, large cloves
Ginger, chopped- 1 inch slice
Fennel seeds- 1 tsp
Whole Cloves-2
Whole Cardamom- 2
Whole Cinnamon- 1 inch slice
Mint leaves, chopped- 10 leaves
For making the masala
Oil- 1½ tbsp
Fennel seeds- 1 tsp
Cloves-2
Whole Cardamom-2
Whole Cinnamon- 1 inch slice
Bay leaves- 2
Curry leaves- 1 sprig
Onions, chopped- 2
Tomato, chopped- 1
Yogurt- 2 tbsp
Salt- to taste
For cooking rice
Ghee- 2 tbsp
Basmati rice- 2 cups ( I used Kaima basmati rice which is small in size)
Mutton stock separated from the cooked mutton
Water
Salt- to taste
Cilantro, chopped- ¼ cup
Instructions
Cooking Mutton
Clean the mutton well under running water.
If the mutton has very sharp smell: add ½ tsp turmeric powder, 1 tbsp lemon juice, and water; set aside for 10 minutes. Drain water and rinse well.
In a large bowl, combine the mutton with the ingredients "for marinating mutton". Keep aside for 10 minutes.
Place a pressure cooker over medium heat, add 1 tbsp oil.
Add the marinated mutton and saute for a few minutes.
Add 2 cups of water and close the pressure cooker. Place the whistle and cook for 20 minutes or until 3 to 4 whistles as mutton takes longer time to cook. Do not over cook.
Let the pressure subside completely, open the lid.
Drain the mutton stock into a bowl, keep the cooked mutton and stock aside.
Grind the ingredients "to grind into a coarse paste" and keep aside.
Soak the basmati rice in water for 10 minutes.
After 10 minutes, drain the water from the rice.
Place a pan over medium heat, add ghee, let melt.
Add the basmati rice and roast for 5 minutes. Keep aside the roasted rice.
Making the Mutton Masala
Place the cooker over medium heat. Add 1½ tbsp oil.
Add fennel seeds, cloves, cardamoms, cinnamon, bay leaves and curry leaves; saute till aromatic.
Add onions, add a few pinches of salt. Saute the onions till golden in color.
Add tomatoes, saute for a few minutes.
Add the ground paste and saute for a few minutes till the raw smell of the paste goes away.
Add yogurt, combine well, cook for a couple of minutes.
Add the cooked mutton, combine well.
Now, add the mutton stock to a liquid measuring cup (I had around 2½ cups), to that add 1¼ cups of water. The mutton masala will have some liquid so we need to consider that as well- so add ¼ cup less water to the mutton stock.
For cooking 2 cups of rice, 4 cups of liquid is required
Add the mutton stock and water to the pressure cooker.
Let the liquid come to a boil.
Taste and add salt accordingly.
If you want more heat to the biryani, add 1 tsp of chili powder at this point and combine well.
Add the rice; combine well. Close the pressure cooker and place the whistle.
Cook over medium heat for 10 minutes.
Let the pressure subside, open the cooker.
Garnish the biryani with chopped cilantro, close the cooker; let rest for sometime. The rice will absorb all the moisture and will be set after 15 minutes.
If you want you could garnish the biryani with fried onions, roasted cashew nuts, raisins etc.
Combine the rice with the mutton and serve on a plate.
Serve with yogurt raita, pickle, pappad etc. Enjoy.
Notes
Replace Mutton with lamb, chicken or beef.