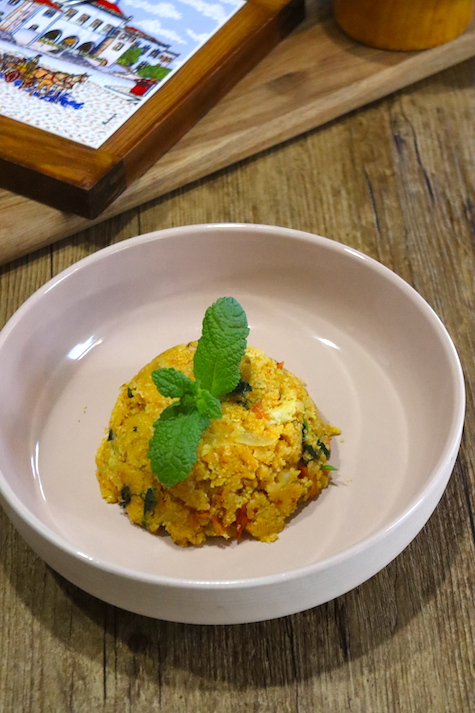 Chicken upma is a flavorful and satisfying dish. It is a variation of the traditional upma, which is a savory porridge made with semolina or coarse rice flour. Chicken upma incorporates pieces of chicken along with spices and vegetables to create a hearty and delicious meal.
This is a perfect one pot meal, can be enjoyed with raita or pickle.
Chicken Upma- Semolina Recipe | Easy One Pot Meal
Ingredients
Ghee- 1 tbsp
Dried bay leaves- 2
Whole cardamom- 3
Onion, chopped- 1
Salt- ½ tsp
Ginger-garlic paste- 1 tbsp
Green chili, chopped- 1 or 2
Tomato, chopped- 1
Boneless chicken, diced small- 1 chicken breast or thighs
Kashmiri chili powder- 1 tsp (for more spice add regular chili powder)
Turmeric powder- ⅛ tsp
Coriander powder- 2 tsp
Cumin powder- 1 tsp
Garam masala- 1 tsp
Salt- 1 tsp
Water- 1 cup
Roasted semolina or rava- 1½ cups
Warm water- ½ cup
Cilantro, chopped- 2 tbsp
Instructions
For making this, roasted semolina or rava that's used for making upma has to be added, available in Indian stores.
Place a large saucepan over medium heat.
Add ghee, add dried bay leaves & whole cardamom; saute for a few seconds.
Add onion, season with ½ tsp salt, saute for 2 minutes.
Add ginger-garlic paste & green chili, saute till onions turn golden in color.
Add tomato chopped, cook for 3 minutes.
Add the chicken, combine well.
Add all the above mentioned spices, combine well.
Add 1 cup water & cook covered for a few minutes till the chicken has cooked well.
Open the lid, there will be some liquid in the pot.
Add ½ cup more warm water. For 1½ cups semolina, 1¾ cups liquid is required. Add water accordingly.
Add 1½ cups roasted semolina or rava, combine well.
Semolina will absorb all the liquid.
Garnish with chopped cilantro.
Close the pot with the lid, cook over low heat for a few minutes till the semolina has turned soft.
Ensure the chicken upma doesn't get stuck to the bottom of the pan. Don't overcook.
Take the pan off the heat & keep it covered for sometime.
Take the chicken upma in a small round bowl & press the top using the back of a spoon.
To a plate, flip the bowl over so the upma will fall nicely onto the plate in the shape of a dome, this will make a beautiful presentation, garnish with mint or cilantro leaves.
Serve in a plate & enjoy with raita or pickle.