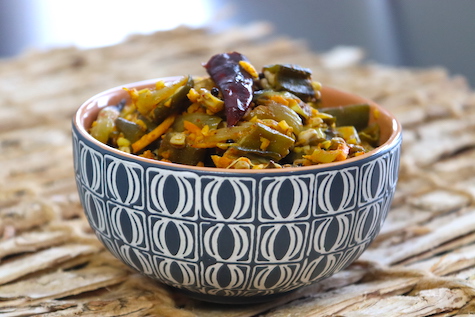 Okra or lady's finger stir fried with coconut…
Kerala style vegetarian side dish, enjoyed with rice. This is one of the dishes I make often with okra or lady's finger. A very simple & easy to make dish.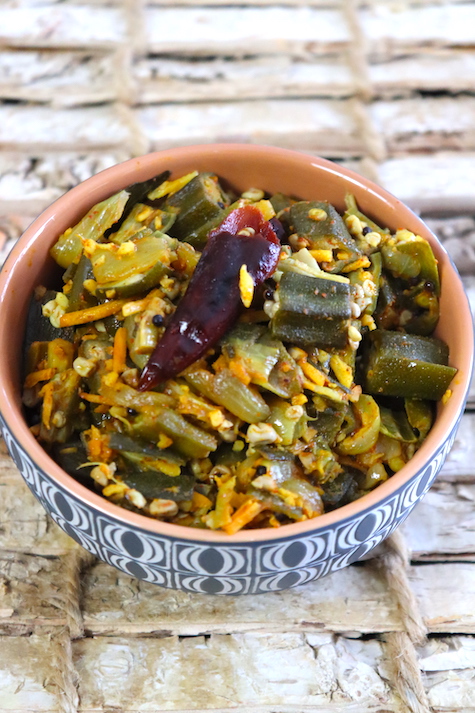 Okra- Lady's Finger Thoran - Stir Fry With Coconut, Kerala Recipe
Ingredients
Coconut Oil- 2 tbsp
Mustard seeds- 1 tsp
Whole dried red chilies- 2
Curry leaves- 1 sprig
Onion, chopped- 1
Okra or lady's finger- 15, cut into 1 inch rounds
Chili powder-1 tsp
Turmeric powder- ¼ tsp
Cumin powder- ½ tsp
Salt- 1½ tsp
Grated coconut- 1 cup
Instructions
Place a plan over medium heat, add oil.
Let oil turn hot, add mustard seeds, let them splutter.
Add dried red chilies & curry leaves.
Add onion, seaosn with ½ tsp salt & saute till onions turn golden in color.
Add okra or lady's finger, cut into 1 inch round slices; combine well.
Cook covered for a few minutes till okra turns soft. If it's getting dry, add ¼ cup water & cook.
When okra turns soft, add chili powder, turmeric powder, cumin powder & salt; combine well.
Add grated coconut & stir fry over high heat till okra & coconut starts to turn golden brown.
Remove the pan from the heat.
Serve in a bowl & enjoy as a side dish with rice, chapati, etc.