Crunchy, mildly-spicy and a perfect appetizer…
Despite of my man's unlikeness for cauliflower, I again made a dish with cauliflower. Last night, when he sensed that I was planning to make something out of cauliflower, he told me that this time he was not going to have it. I just smiled at him and focused on my cooking. Only thought I had in my mind was to make a dish that my man will fall head over heels.
My initial intention was to make cauliflower fritters, I stuck with that idea and made a gluten free batter with rice flour and corn starch. I love sesame seeds and so added sesame seeds to the batter. After making the fritters, I felt that my man was not going to be that impressed by the fritters. So, I made a stir fry out of the fritters by adding onions, soy sauce and ketchup. The color of the stir fry, the aroma, the taste; I was truly blown away.
Cauliflower fritters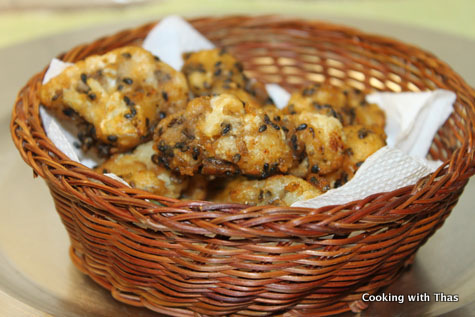 Just the look of this dish made my man partially fall for this dish, after he took a bite of it he was seen enjoying this stir fry without even saying a word till he emptied the whole plate. After finishing up he looked at me and asked: Could I have one more plate of this?
It was delicious, a perfect appetizer that can be made without much effort.
Sesame Cauliflower Fritter Stir Fry - Gluten Free
Ingredients
Cauliflower, florets- florets of a small cauliflower
Oil- enough for deep frying cauliflower
For making Batter
Rice flour- ¾ cup ( or use all purpose flour)
Corn starch- ¼ cup
Chili powder- 1 tsp
Dried basil- ½ tsp
Dried oregano- ½ tsp
Sesame seeds- 1 tbsp
Salt- to taste
Ketchup- 1 tbsp
Water- ½ cup (enough to make thick batter)
For making stir fry
Oil, used for frying- 2 tbsp
Cumin seeds- 1 tsp
Whole dry red chili- 2
Onion, chopped small - 1
Ginger-Garlic paste- ½ tbsp
Soy sauce- 2 tbsp
Tomato ketchup- 2 tbsp
Green onions, chopped- 2 stalks
Cilantro, chopped- 2 handful
Instructions
In a large bowl, combine all the above mentioned ingredients "for making batter". Add water accordingly to make a thick batter.
I used rice flour, you could use all-purpose flour instead.
Separate the cauliflower florets and rinse it under running water. Pat dry using kitchen paper towel.
Heat enough oil for frying in a frying pan.
Dip the cauliflower florets in the batter and fry till golden in color.
Transfer the fritters to a paper towel, keep aside.
Place a non-stick pan or wok over medium heat.
Add 2 tbsp oil used for frying fritters.
Add cumin seeds and dry red chili, saute for a few seconds.
Add onion and saute till it turns translucent.
Add ginger-garlic paste and saute till onions turn light brown.
Add soy sauce and tomato ketchup, combine well.
Add the cauliflower fritters, stir fry to coat with the sauce.
Add green onions and cilantro, stir fry for 30 seconds.
Serve on a plate and enjoy.
Step by Step Pictures