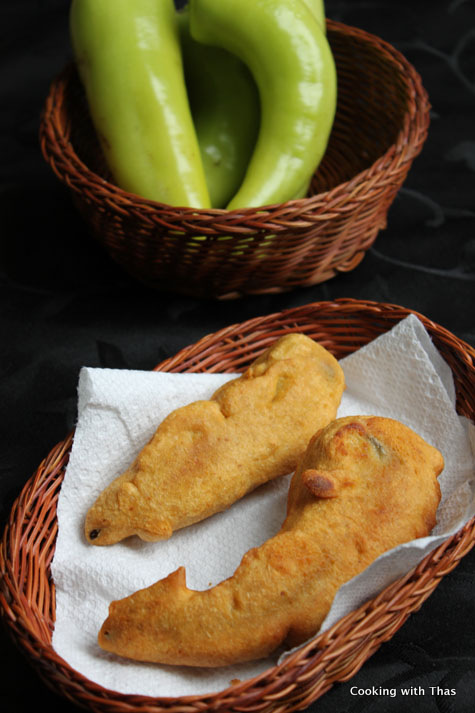 South Indian street food snack delicacy…
I wonder if there would be any South Indian who hasn't craved for this spicy snack at least once in his life time. Once you try this fritter, you are probably going to get obsessed with it. It's spicy but it's so delicious. This fritter is one of the most popular street food snacks in South India. When you visit South India (Kerala or Tamil Nadu) there is no way you can miss this snack as almost all street vendors will be seen frying this fritter all day long. The aroma of these fritters and the crowd that's enjoying this fritter will make you walk towards the food stall and to place a few orders of it. The warmth from these fritter and obviously the taste will make you want more.
I love to enjoy these fritters on a rainy day. The breeze, the rain drops, the fritter and a cup of coffee; it's pure bliss!
It's called banana peppers or Mulagu in Malayalam and is available at most grocery stores and at Asian super market. First, a batter is made out of gram flour added with some seasonings, the pepper is dipped in it and deep fried to golden brown. The seeds in the banana pepper is so fiery and it's seen on the top part of the peppers. Most South Indians eat that too. However, If you are someone who cannot handle heat, after you have enjoy the tail part of the fritters, you could remove the seeds from the top part and enjoy the rest as well. It won't be that spicy.
Mulaku Bhaji Frying video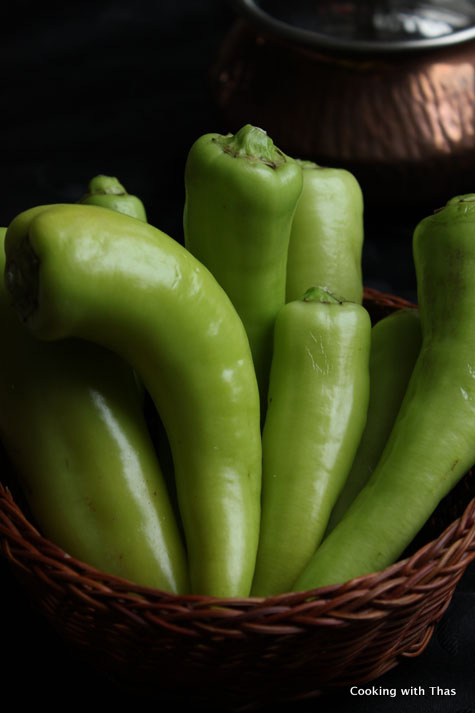 Here is the picture of banana peppers that are ready to be dipped in the batter taken at Kanyakumari.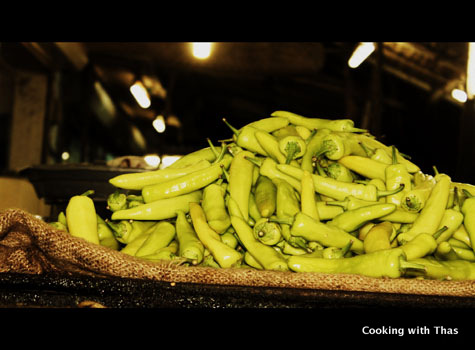 Banana Pepper Fritters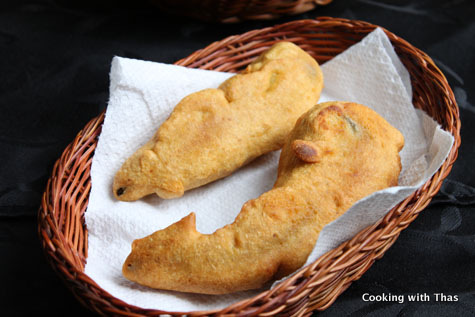 Banana Pepper Fritters or Mulagu Bhaji - Gluten Free
Ingredients
Banana pepper- 4
Oil- for deep frying
For making batter
Gram flour- 2 cups
Chili powder- 1½ tsp
Ground cumin- 1 tsp
Asafoetida- ⅛ tsp
Salt- to taste
Water- 1 cup
Instructions
In a large bowl, combine the above mentioned ingredients "for making batter". Batter should be of thick constituency.
Heat oil in a frying pan.
Dip the banana pepper in the batter, evenly coat it.
Deep fry in oil till golden brown in color.
Transfer to a kitchen paper towel.
Enjoy when it's warm.
If you cannot handle the heat: After enjoying the tail part of the fritters, remove the seeds and enjoy the rest.
Notes
For making more: increase the amount of batter accordingly.