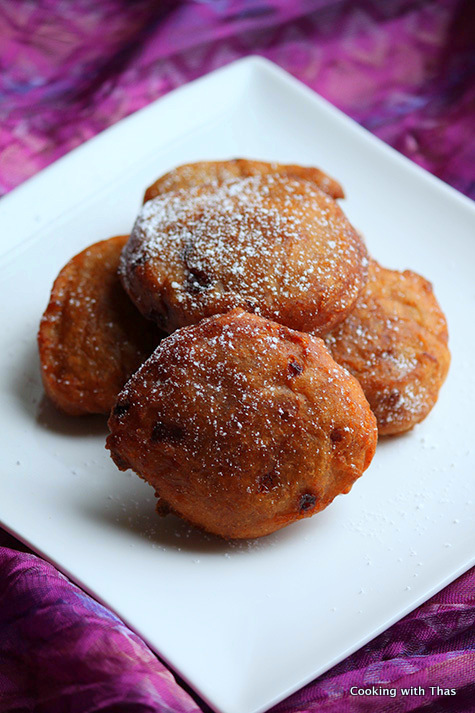 Ripe bananas are transformed into delicious fritters…
I had a couple of over-ripe bananas that had developed black spots on the skin. I don't like to eat the over ripe bananas, I usually turn them into smoothies or milkshakes. It is said that over-ripe bananas that have black spots on the skin helps to fight cancer. So, don't throw the over ripe bananas into the garbage, enjoy them.
Yesterday, seeing the ripe bananas sitting not so comfortably on the kitchen counter-top tempted me to transform them into something delicious. Banana fritters sounded great and I made them without even wasting a second. While frying the banana fritters, the aroma spread the whole house and it was just incredible. Ground cinnamon added to the batter imparted a pleasant aroma and flavor. Enjoyed the banana fritters thoroughly and the only thing missing was a couple of scoops of vanilla ice cream.
This can be served for brunch or as an evening snack. Serve this as a dessert by topping the fritters with vanilla ice cream.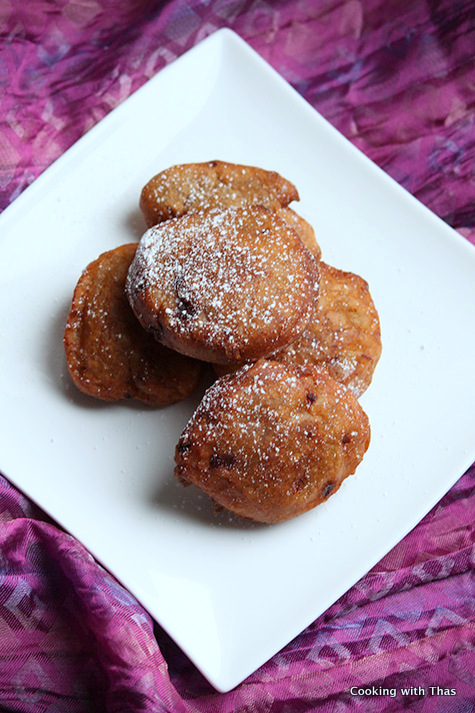 Easy Banana Fritters Recipe
Ingredients
Ripe bananas- 2
All purpose flour- 1 cup
Baking powder- 1 tsp
Sugar- 3 tbsp
Ground cinnamon- ¼ tsp
Salt- ⅛ tsp
Water- 2 to 3 tbsp
Oil- enough for deep frying
Powdered sugar- to sprinkle on the fritters
Instructions
Combine the flour, baking powder, sugar, ground cinnamon and salt together.
In a large bowl, mash the ripe bananas using a fork.
Add the flour mix and combine well with the mashed bananas without any lumps.
If the batter is too thick, add 2 or 3 tbsp water and combine well.
The batter shouldn't be too thick nor too watery.
Cover the bowl with a plastic wrap and refrigerate for 15 minutes.
Heat a frying pan, add oil and let the oil turn hot.
Take the batter using a spoon and drop it into the hot oil.
Deep fry till the fritter turns golden brown in color.
Transfer the fritters onto a kitchen paper towel and let cool down a bit.
Enjoy the fritter while it's warm, sprinkle the powdered sugar on it and serve immediately.
To serve as a dessert- Top the fritters with 2 scoops of vanilla ice cream, drizzle chocolate syrup and serve. This is going to taste delicious.