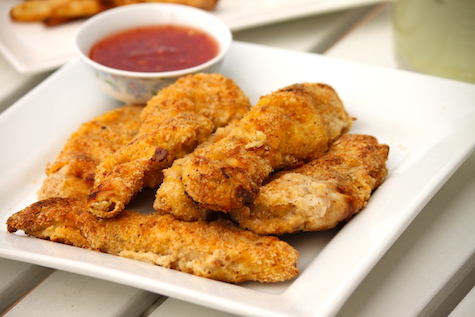 Chicken fingers, it's homemade and it's baked…
Last weekend, dined out and had chicken fingers after a long time, enjoyed it so much. Since then, making chicken fingers in my kitchen had been on my must-do list. Had a chess night with friends and I couldn't think of anything but chicken fingers and fries to entertain everyone. Also, made freshly squeezed mint-limeade, it was refreshing.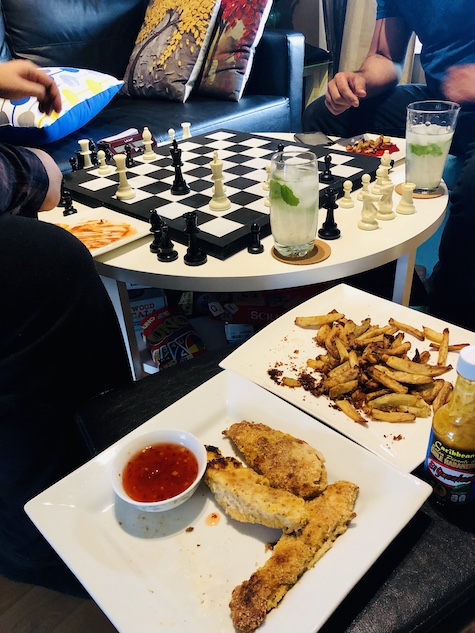 I baked the chicken fingers and they turned out awesome. Fries were made in the air fryer, turned out crispy and I can't make fries anyway other than air fried, the best fries ever.
Make these chicken fingers and enjoy with your friends…
Video for making Fries in the Air Fryer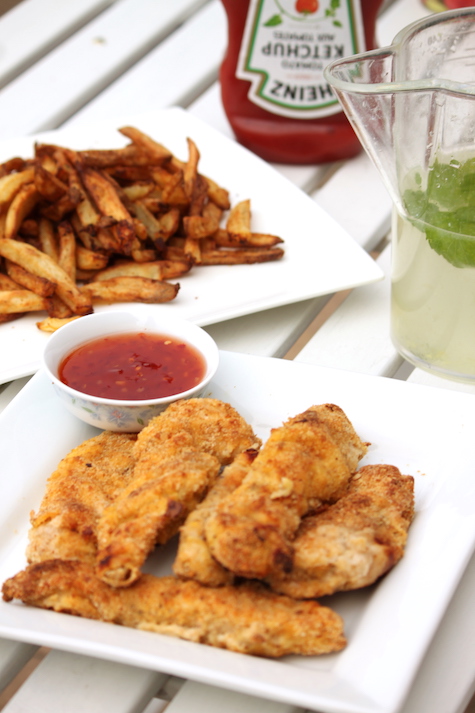 Baked Chicken Fingers- Homemade Chicken Fingers
Ingredients
Chicken breasts- 2
Ground pepper- ¼ tsp
Salt- ½ tsp
All-purpose flour- 1½ cups
Paprika- ½ tsp
Ground pepper- ¼ tsp
Eggs, beaten- 2
Breadcrumbs- 2 cups
Parmesan cheese- ½ cup
Instructions
Cut the chicken breast vertically into equal halves. Cut each vertical halves into 2 equal halves.
With 2 chicken breasts, you will have 8 long chicken wedges or fingers.
Season chicken wedges with ¼ tsp ground pepper and ½ tsp salt.
On a plate combine all-purpose flour, paprika, and ¼ tsp ground pepper.
In a bowl, beat eggs well using a fork.
On another plate, combine breadcrumbs and parmesan cheese.
Preheat oven to 475 F or 245 C.
Line a baking sheet with aluminum foil. Grease with non-stick cooking spray.
Coat each chicken wedges first in the all-purpose flour mix, dip in beaten egg and then coat evenly with breadcrumbs-parmesan cheese mix.
Arrange the coated chicken fingers on the baking sheet.
Spray non-stick cooking spray over the coated chicken fingers.
Place in the preheated oven and bake for the first 10 minutes.
Flip over and bake for another 10 minutes.
Remove the baking sheet from the oven.
Serve hot along with your favorite dipping sauce.
My favorite dipping sauce: combine together ketchup, chipotle mayo, and hot sauce; it's finger licking yum!