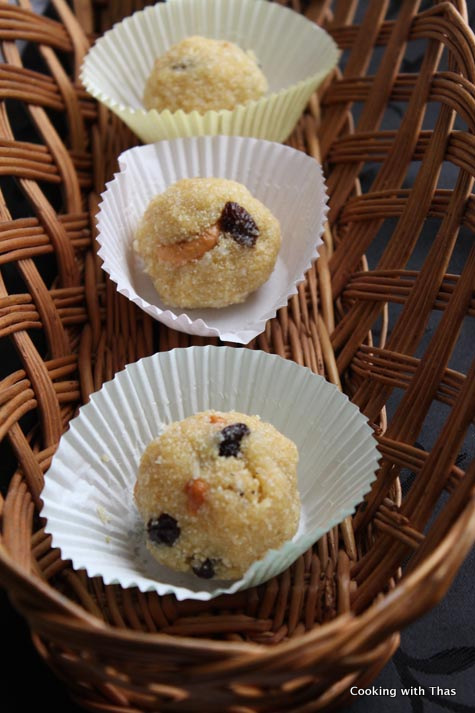 All you need is 15 minutes to make this delicious semolina or rava ladoo…
Aren't you all glad that Thursday has come to an end??? This week did go by pretty fast and now looking forward to a long weekend. Last weekend, we visited the Botanical garden in Hamilton, ON. There are many gardens, lakes and parks lined up in Hamilton, it was a very relaxing trip and I got to spend some time with flowers, birds, chip munks in the woods.
Isn't he the cutest??? He did make sure to entertain me to the core and posed for all the pictures I clicked.
Red-winged black bird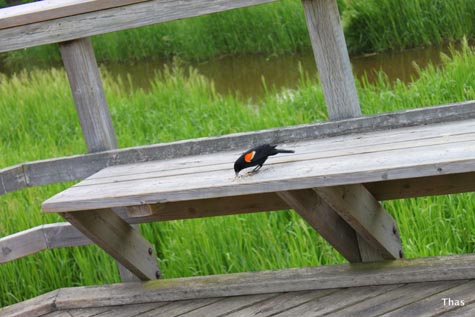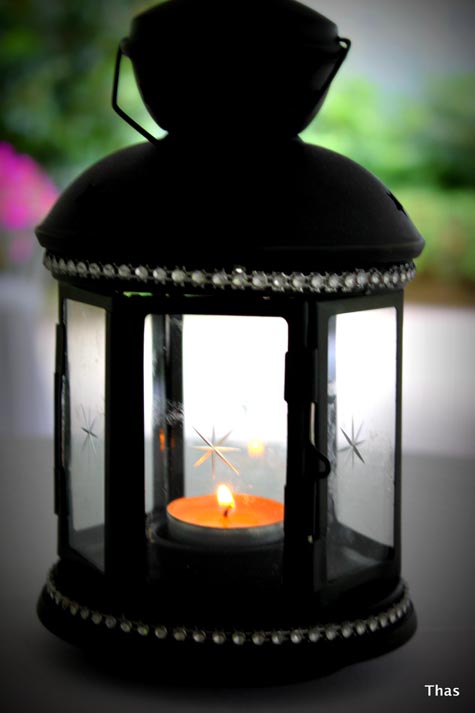 Two days ago, in the evening I had an intense craving for sweet snacks. I could have bought donuts from the nearest store and could have succumbed to my craving. That would have taken 30 minutes of drive, I couldn't wait that long so I hoped into my kitchen and started making these rava or semolina ladoos. 15 minutes is what it took to make these delicious homemade ladoos. This is a very popular sweet in India, this is made in most of the houses as it's easy to make and tastes delicious.
Don't event think that you can stop with just one. oh ya, you are going to think twice before you share these with others.Well, sharing does enhances the taste of anything so let's just let go the greediness and share with our dear ones.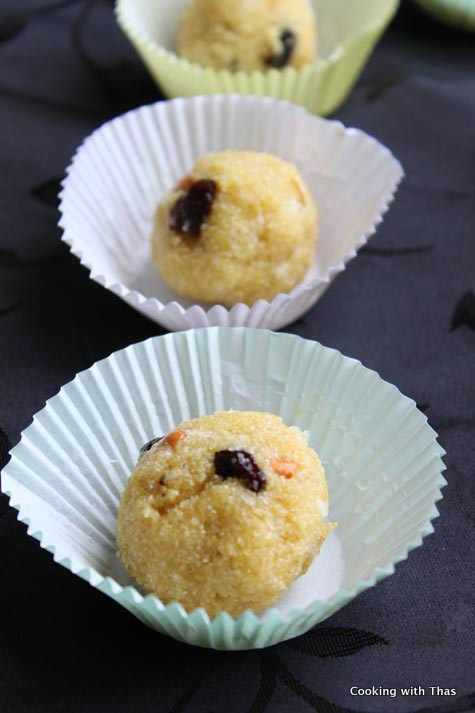 Cooking Video
Rava Ladoo or Semolina Ladoo - Semolina Rolls
Ingredients
Ghee- 1 tbsp + 1 tbsp
Cashew nuts- 2 tbsp
Raisins- 1 tbsp
Coconut, grated- ½ cup
Semolina or Rava- 1½ cups
Sugar- ¾ cup
Milk- ½ cup
Instructions
You could either use roasted rava or semolina (available at Indian stores) or un-roasted rava or semolina.
If using un-roasted semolina: melt 1 tbsp ghee on a pan, add the semolina and roast till aromatic for 5 minutes, remove the pan from the heat and keep aside.
Place a large non-stick pan over medium heat, add 1 tbsp ghee, let melt.
Add cashew nuts and raisins, saute till cashew nuts turn light golden and raisins bubble up.
Add grated coconut, saute for a couple of minutes.
Add semolina, saute for 2 minutes. Since it's already roasted you don't have to roast for long.
Add sugar, combine and cook for 2 minutes.
Add milk slowly and combine well as you add the milk.
Let cook for 2 minutes.
Remove the pan from the heat.
Let the mixture cool down a bit.
Make small balls out of the cooked semolina mixture while it is still warm, shouldn't cool down completely.
Place on a tray and let cool down completely, the ladoos will set well as it sits for sometime.
For a good presentation you can place each rolls on cup cake liner and place on a tray.
These ladoos are soft, for making hard ladoos add more milk: 1 cup milk.