A vegetarian dish packed with all kinds of good nutrients and vitamins…
Drumstick tree or Moringa Oleifera is a common tree in South India. The drumstick, the leaves and the flowers all have phenomenal health benefits. The leaves are considered as medicinal herb, packed with almost all good things. There is a huge tree in front of my parent's house, hence the leaves are cooked in all different forms and are served almost everyday.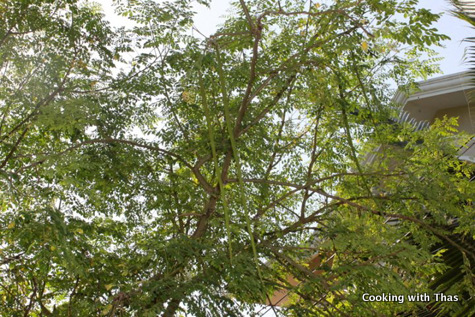 Yesterday, I found drumstick leaves being sold at the Indian store, that was a huge surprise for me as I'd not seen this at any stores. I even searched at Asian stores where they carry almost all kinds of vegetables, but drumstick leaves were not available. Seeing this after so long made me really happy and I got home with a bunch of these leaves.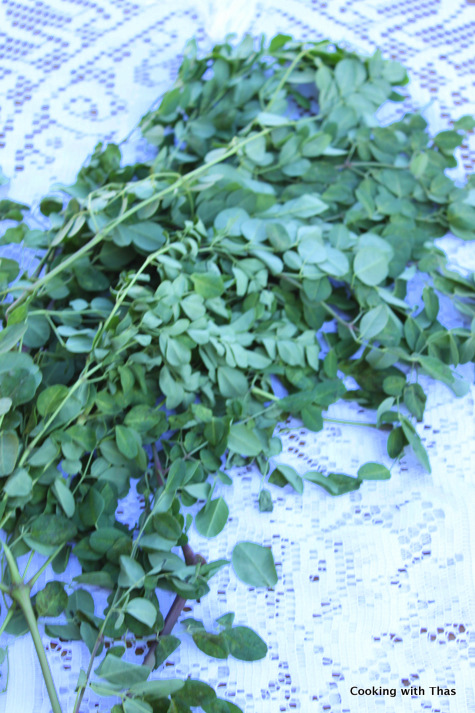 The leaves have a little bitter smell, young and fresh leaves tastes good when cooked. However, aged leaves might impart the bitter taste to the dish. So many dishes can be made with the leaves: stir fry with grated coconut, it's cooked with lentil, made into soups etc etc.
Drumstick Leaves and Lentil Stir Fry -Moringa Stir Fry
Ingredients
Oil- 1 tbsp
Mustard seeds- 2 tsp
Dry red whole chili- 2
Curry leaves- 1 sprig
Onion, chopped- 1, small
Ginger-garlic paste- 2 tsp
Green chilies, chopped-1
Turmeric powder- ⅛ tsp
Kashmiri red chili powder- ¾ tsp
Coriander powder- 1 tsp
Cumin powder- ½ tsp
Drumstick leaves- a bunch
Split mung bean- ½ cup (skin removed)
Water- 1¼ cups
Salt- to taste
Instructions
Separate the drumstick leaves from the stalk, rinse under running water.
Place a pressure cooker over medium heat, add oil let it turn hot.
Add mustard seeds, let it splutter.
Add dry chilies, curry leaves.
Add onions, green chili and salt, saute till translucent.
Add ginger-garlic paste, saute for a couple of minutes.
Add turmeric powder, Kashmiri red chili powder, coriander powder and cumin powder, saute for a minute.
Add the drumstick leaves, saute.
Add mung bean, combine well.
Add water and cook till 2 whistles. Let the pressure subside, open the cooker and cook over high heat if there is any water left till the water dries off.
Don't over cook the mung bean, it shouldn't be mashed up.
You could cook this in a saucepan as well.
This can be served as a side dish with rice, roti etc.
Notes
If you want you could add grated coconut towards the end and stir fry it.