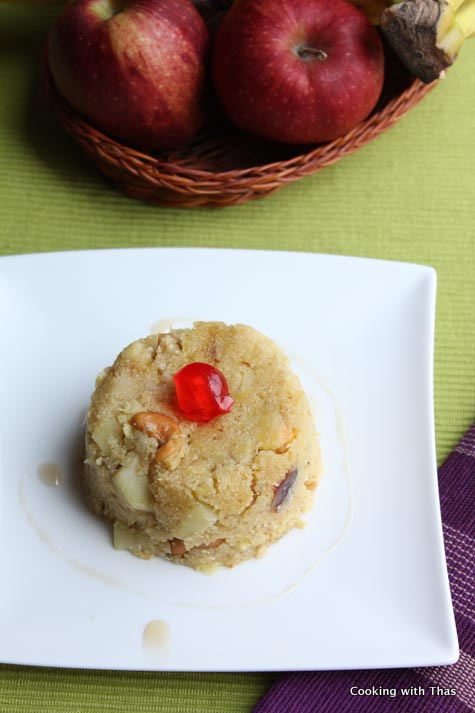 Delicious fruit and nuts upma…
Upma or uppuma is a very common breakfast dish in South India. However, this dish was not common in my family, very rarely this was made in my home. The main ingredient in this dish is semolina which is dry roasted and combined with either veggies/meat and cooked by pouring water little by little. Last saturday morning while thinking about brunch dishes, I thought of upma. First, I thought of making a savory upma by adding veggies, eggs etc. Then, I felt may be I should add fruits and nuts and make into a sweet upma. After all who doesn't want to start the morning with a sweet and delicious dish??? This fruit and nuts upma tasted delicious and was very easy to make.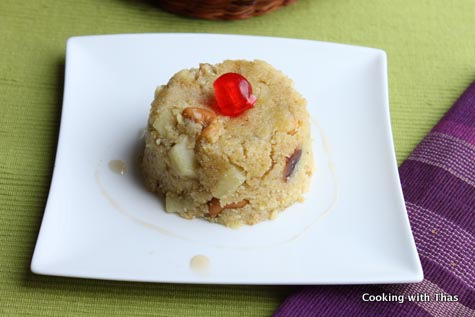 Preparation Pictures
Cooking fruits and nuts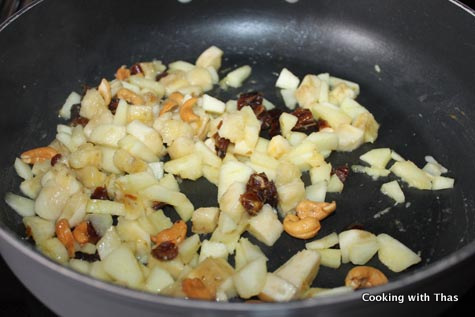 After adding cream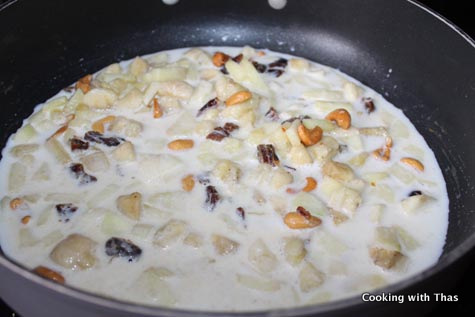 After adding roasted semolina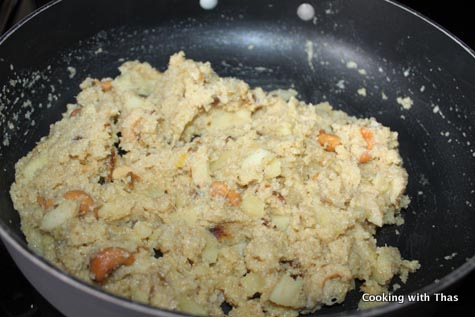 Fruit and Nuts Upma or Uppuma - Fruit and Nuts Semolina Roast
Ingredients
Butter or Ghee-1 tbsp
Apple, chopped- 1
Banana, chopped-1, medium-ripe
Dates, chopped- 6
Cashew nuts, broken- ¼ cup
Half and half cream or whole milk- ½ cup
Water ( or add cream or milk)- ½ cup
Roasted semolina or store bought roasted Upma mix- 1¼ cups
Saffron- 2 pinch soaked in ½ tbsp water
Honey- 3 tbsp
Instructions
You could either use semolina or store bought roasted upma mix.
If using semolina, roast the semolina in 1 tbsp ghee or butter till light golden and aromatic.
Place a large non-stick cooking pan over medium heat, add ghee or butter, let melt.
Add chopped apple, banana, dates and cashew nuts, saute till banana starts to turn mushy.
Add half-half cream and water.
You could add milk or cream instead of water.
Add saffron soaked in water, combine well and let the mixture come to a slight boil.
Add honey, combine well. Add more honey or sugar according to your sweet level.
Slowly add roasted semolina or roasted upma mix and combine well using a spatula.
Mix well as you add the semolina to the liquid without any lumps.
Cook for a few minutes, remove the pan from the heat.
Serve warm or chilled.
While serving you could drizzle a few teaspoons of honey over it.