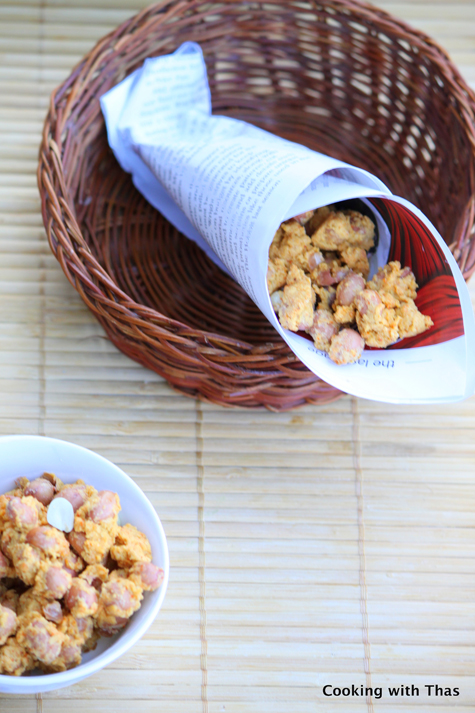 Crunchy and crispy masala peanuts made in the microwave, it got healthy and you can snack on these without any guilt.
Peanuts are very common in India and we all snack on it regularly. When you go to the beaches in India, you can see peanuts getting roasted and being sold in paper cones. It's so much fun walking on the beach munching on the freshly roasted peanuts.
One of the ways of enjoying peanuts in india is by frying the peanuts that has been coated with gram flour batter and masalas. What if the same masala peanuts can be made in the microwave with less oil??? I will definitely go for the healthy version.
These microwaved masala peanuts are crunchy, crispy, healthy and tastes so good. This definitely beats the fried masala peanuts.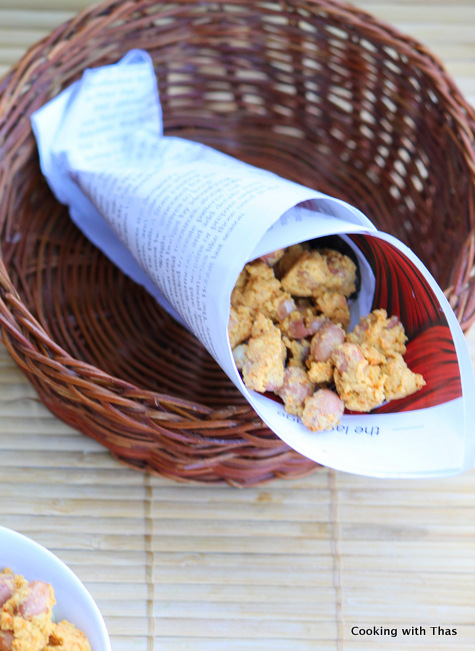 Here is the video for making Masala peanuts
Masala Peanuts made in the Microwave - Crunchy Masala Peanuts
Ingredients
Peanuts, with skin- ½ cup
Gram flour or Besan- ½ cup
Chili powder- ¾ to 1 tsp
Ground cumin- ½ tsp
Salt- to taste
Oil- 1 tbsp
Water- 2 tbsp.
Instructions
In a bowl, combine all the ingredients till the peanuts are coated well with the batter.
Place each coated peanut on a microwave safe plate.
Don't over crowd the peanuts, make it in a couple of batches.
Microwave at full power for 1 minute and 30 seconds.
Let the masala peanuts cool down for a few minutes.
Enjoy the crispy and healthy masala peanuts without any guilt.
Notes
You could add any kind of seasonings or masalas.