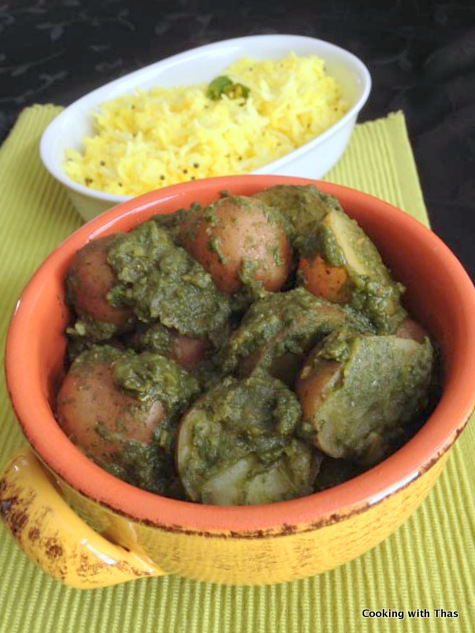 A North Indian Vegetarian delicacy…
Two of my favorite veggies: spinach and potato got married into one dish. This is in deed a healthy and a pleasing dish. The fleshy potatoes gives a meat feeling and the pureed spinach enhances the taste and the flavor of this dish. This is one of the popular vegetarian dishes in North India.
You could replace the potatoes with Paneer (Indian cheese) or add paneer also to this dish.
Recipe Source, here.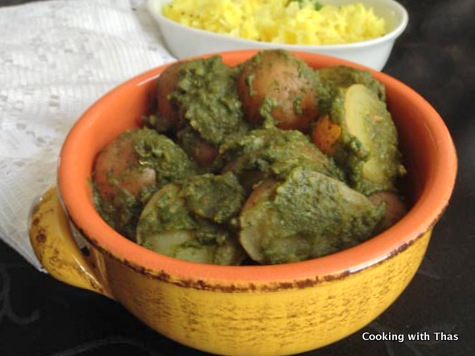 Potato in Spinach Gravy - Aloo Palak Recipe
Ingredients
To cook and puree
Spinach, chopped- a bunch
Garlic, chopped- 2 cloves
Ginger, chopped- 1 inch slice
Green chilies, chopped- 2
Onion, chopped- 1
To cook potatoes
Potatoes, diced- 6 large white potatoes diced or use 10 small red potatoes halved
Turmeric powder- ¼ tsp
Water- enough to cook potatoes
While cooking
Ghee or butter- 3 tbsp
Cumin seeds- 1 tsp
Garam masala- 1 tsp
Coriander powder- 1 tsp
Ground cumin- ½ tsp
Chili powder- ½ tsp (optional)
Salt- to taste
Instructions
If using large white potatoes, peel the potatoes and dice it. If using small red potatoes, you could leave the skin on and half the potatoes.
Cook the potatoes in water seasoned with salt and turmeric powder till it's fork tender. Drain the water and keep aside the cooked potatoes.
Place a saucepan over medium heat, add spinach, garlic, ginger, green chilies and chopped onion; cook covered till the veggies turn tender.
Puree the cooked spinach along with enough water to a smooth paste.
Place a large pan over medium heat, add ghee or butter. Let it melt.
Add cumin seeds and saute for a couple of seconds.
Add the pureed spinach mixture, combine well and cook for a minute.
Add garam masala, coriander powder, ground cumin and chili powder-if needed. Combine well and cook.
Add salt to taste and cook for a few minutes.
If the gravy is too thick add some water to thin it down.
Now, add the cooked potatoes, combine well to the spinach gravy.
Cook covered for a few minutes till the gravy thickens and is well coated to the potatoes. This is a dry dish.
If you prefer, you could finish it off with 2 tbsp of cream.
Transfer to a bowl and serve with chapati, basmati rice, cumin rice etc.
I served this with Lemon rice.
Notes
You could add cubed Paneer to this dish.