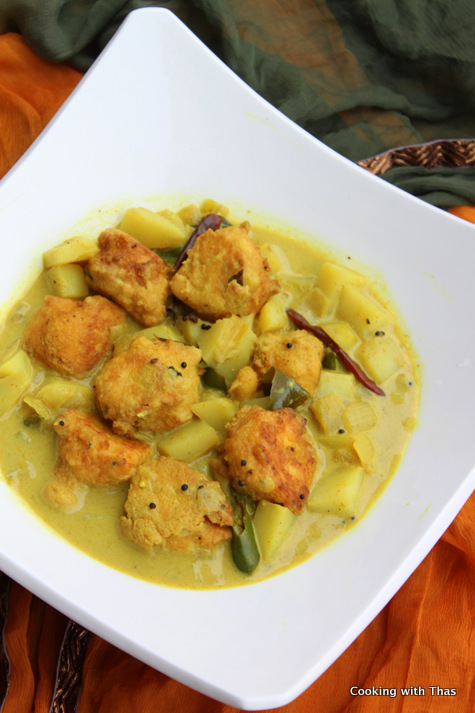 One of the highlights of my Onam Sadya is this absolutely delicious Vada Kootu curry…
Finally, I made my Onam Sadya yesterday. Thanks to all my friends on FB who posted the pictures of their Sadya that made me drool and motivated to make my own Sadya. Last week, I made up my mind that I would make a grand Sadya on Saturday, I didn't let my mind change and made one of the best Sadyas. I have already made most of the Sadya dishes and have posted the recipe of them. Before I started my Sadya preparations, I opened up my website and skimmed through my Sadya recipes. It's a great feeling that my own food website comes in handy when I have to refer to any of the old recipes.
Onam Sadya 2013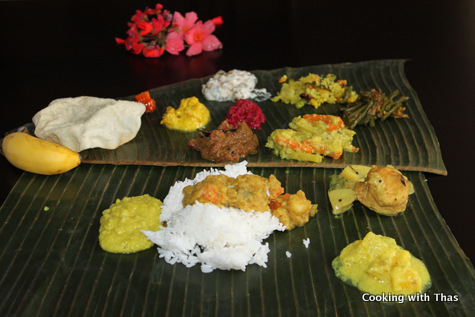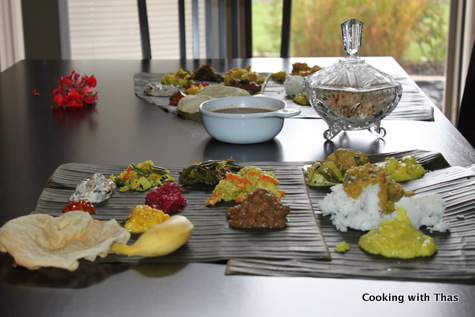 On Friday, I went for a mega shopping and bought all the vegetables, especially banana leaves. The banana leaves that we get here are frozen, hence it looks wilted and the vibrant green color is lost. However, it's much better than plastic banana leaves, so I am happy with the frozen banana leaf. This time, I wanted to make those dishes that I had not tried before. I made a list of those dishes and my top favorite among them was Vada Kootu curry.
I haven't tasted this dish before as it's neither made in my family nor at any of my friend's family. I became aware of this dish recently, since then I had been craving for this dish. This is an absolutely delicious dish and is quite different from the other Sadya dishes. This dish really tasted like a meat dish and will be loved by everyone.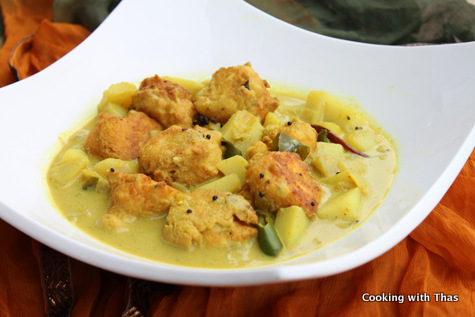 Preparation pictures
Urad dal batter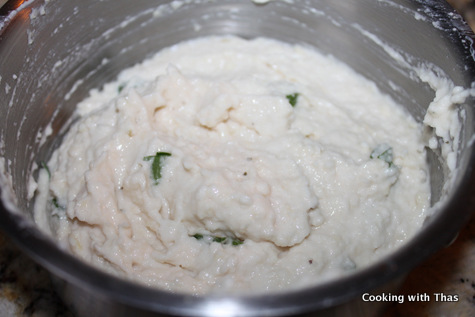 Frying Vada or lentil fritters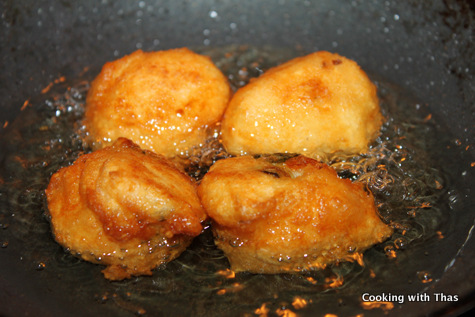 Fried Vadas or lentil fritters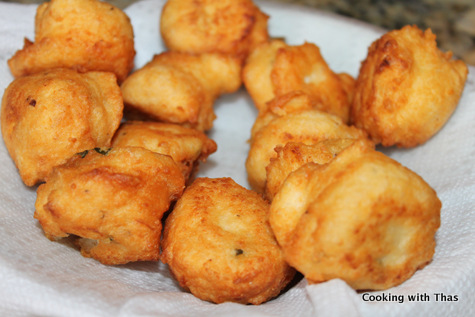 Making gravy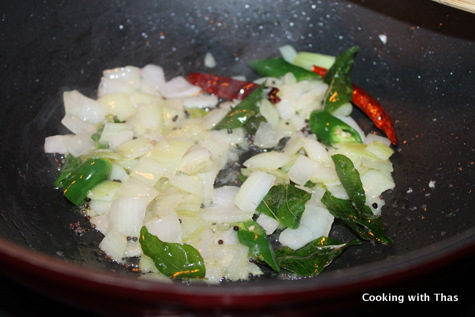 After adding potatoes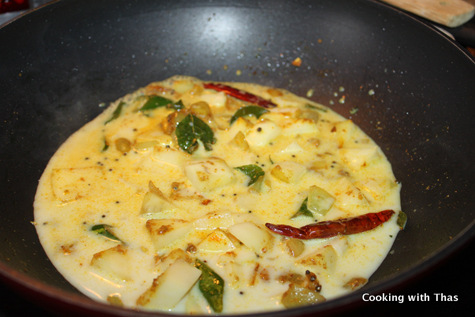 After adding vadas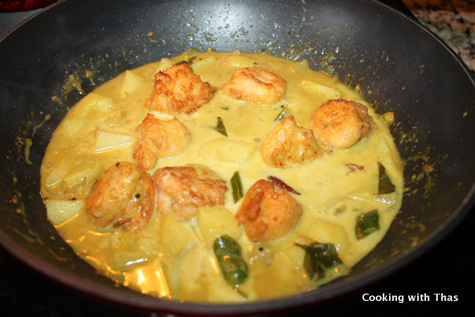 Vada Kootu Curry - Fried Lentil Dumplings in Coconut Gravy- Sadya Dish
Ingredients
For making the Vada or Lentil Fritters
Urad dal- 1 cup, soaked in water overnight
Ginger, grated- 1½ tsp
Green chilies, chopped small- 1
Curry leaves, chopped small- 5 leaves
Whole black pepper corns, crushed- 5
Salt- ¾ tsp
Oil- to deep fry
For making the Gravy
Oil- 2 tbsp
Mustard seeds- 2 tsp
Whole dry red chili- 2
Curry leaves- 1 sprig
Green chilies, chopped- 1
Onion, chopped- 1, large
Ginger-garlic paste- 2 tsp
Turmeric powder- ¼ tsp
Chili powder- 1 tsp
Coriander powder- 1½ tsp
Garam Masala- ½ tsp
Potatoes, cubed- 2, small
Coconut milk, thin- 1 cup
Thick coconut milk- ½ cup
Salt- ¾ tsp
Instructions
Making the Vada or Lentil fritters
Soak the urad dal in water overnight or atleast for 4 hours.
Drain the water and grind the soaked urad dal in a blender to a thick smooth paste.
While grinding, add only very little water, the batter should be very thick.
Transfer the batter to a bowl.
Add grated ginger, curry leaves, crushed peppercorns, green chilies and salt, combine with the batter well.
Heat a frying pan and add enough water to deep fry, let the oil turn hot.
Make small balls out of the batter, it will be very sticky. Grease the palm of your hand with oil and make the balls.
Drop the balls into the hot oil without crowding, deep fry till it turns golden in color.
Transfer to a paper towel and keep aside.
Making the Gravy
Place a saucepan or wok over medium heat.
Add oil, let turn hot.
Add mustard seeds, let it splutter.
Add dry red chilies and curry leaves, saute for a second.
Add onions, green chili and a few pinches of salt. Cook onions till it turns translucent.
Add ginger-garlic paste, saute and cook till onions turn light golden in color.
Add turmeric powder, chili powder, corinader powder and garam masala, saute for a few seconds.
Add potatoes, saute for a minute.
Add the thin coconut milk, combine well and cook covered till potatoes turn fork tender.
After the potatoes are cooked, if the gravy is too thin add some water to thin it down.
Taste and add salt to the gravy. If you want more spice add more chili powder.
Add the fried vadas or lentil fritters, combine with the gravy.
Add the thick coconut milk, combine well and let cook for a few minutes.
You could make it into a thick dish or thin down the gravy by adding more thin coconut milk or water.
Remove the saucepan from the heat and keep covered for sometime.
As this dish sits for sometime, the fried vadas will absorb some of the gravy and will be thickened.
This can be served along with Sadya or as a main dish along with rice, chapati, roti etc.