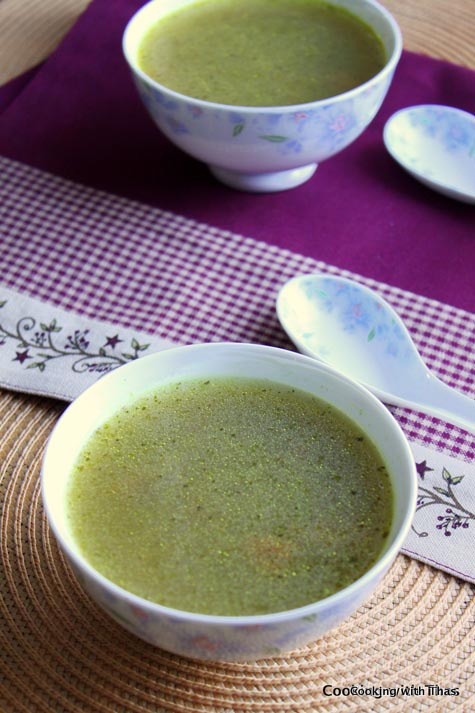 Perfect soup to sip on a cold day or flu day…
Rasam is a popular dish in South India. It has a soup constituency and is usually poured over rice and combined well and eaten. It can also be served as a soup. It's spicy, tangy and is very good for digestion and cold. In some South Indian family, rasam is so unavoidable that they have it on daily basis. One of my uncles need rasam for lunch or dinner every single day. Rasam can be made in bulk and kept in the refrigerator for a few days, this way you don't have to make it everyday. Rasam is purely vegetarian and is made with very basic ingredients.
The other day, I'd made rasam and served for lunch. My man started sipping it as a soup and him being a hard core non-veggie made a suggestion: "Next time try adding chicken to the rasam". Yup, he loves the hint of meat in almost all dishes. Anyway, his idea sounded interesting and I was tempted to make chicken rasam.
I did add chicken to the rasam and it did taste great. This soup is slightly spicy as crushed peppercorns are added. However, the heat from the peppercorns makes you feel so good and will charge you up instantly.
More vegetarian Rasam recipes.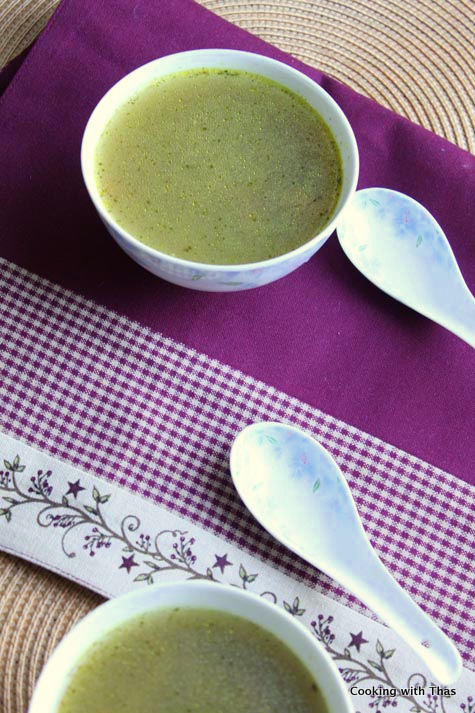 Chicken Rasam -South Indian Spicy Chicken Rasam Soup
Ingredients
To grind
Whole peppercorns- ¾ tsp
Cumin seeds- ¾ tsp
Ginger, chopped- 1 inch
Garlic, chopped- 1 large clove
Small onions, chopped- 3
Coriander powder- 1 tsp
Cilantro, chopped- 1 handful
Mint leaves- 6 leaves
For cooking chicken
Chicken thighs or breast, boneless- 2 thighs or breast, diced small
Small onion, chopped- 3
Tomato, chopped- 1
Ground pepper- ⅛ tsp
Turmeric powder-1/8 tsp
Salt- to taste
Water- 2½ cups
Instructions
In a pressure cooker, combine the chicken along with small onion, tomato, ground pepper, turmeric powder, salt and water. Cook for a few minutes.
You could cook the chicken in a soup pot as well.
You could use bone-in chicken, if so you have to shred the meat after cooking the chicken.
Grind the above mentioned ingredients "to grind" to a smooth paste.
After the chicken has cooked well, open the pressure cooker.
If using bone-in chicken, shred the meat and discard the bones. Add the shredded chicken back to the chicken stock.
Add the ground mixture to the chicken stock.
Cook for a few minutes till the raw smell of the ground paste goes away.
Taste and add salt if needed.
If you need this soup to be more spicy, sprinkle more ground pepper.
Serve in a soup bowl and enjoy.