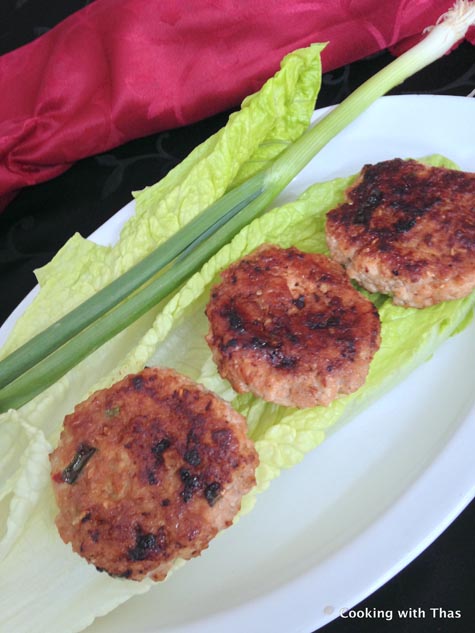 Tired of regular patties? Make it Asian style and enjoy…
No more complaints! When the weather gets crazy in winter, I get cozy on my couch either watching movies or reading ebooks. Today, I've added around 50 best books of 2013 to my library, hoping to read all of them. Yup, I am on a marathon reading . While in Summer, I befriend outdoors and I go crazy embracing the nature, riding motorcycle, and will be indulged in other outdoor activities. I cannot wait for Summer! Alright, alright…No more complaints. When the weather gives you snow, go snow sledding. Now, that's fun!
So, as I get cozy on my couch, I get lazy to cook also. That's when I explore all the quick fix meals and make ahead meals. Soups are one of my favorite dishes to make during winter, throw all the ingredients into a pot and walk away. It cannot get anymore easier.
Last weekend, I made these Asian style chicken patties and I topped my salad with these juicy and flavorful patties. I loved the taste of these patties, quite different from the usual patties. I added Asian ingredients and hence the name. If you are tired of regular patties, make these and feel good about it.

Asian Style Chicken Patties
Ingredients
Ground chicken- 1 lb
Green onions, minced- 1 stalk
Hoisin sauce- 2 tbsp
Soy sauce- 1 tbsp
Sesame seeds- 1 tbsp
Chili paste or Sambal oelek- 1 tsp
Sesame oil- 1 tsp
Vegetable oil- 2 to 3 tbsp to pan fry
Instructions
In a bowl, combine ground chicken along with green onions, hoisin sauce, soy sauce, sesame seeds and chili paste.
Make patties out of the prepared mixture.
Place a non-stick pan over medium heat, add sesame oil and vegetable oil.
Place the patties onto the pan and pan fry till both sides have cooked well.
You could even grill the patties.
These patties can be used in burgers, sandwiches, top the salad or enjoy just the patties