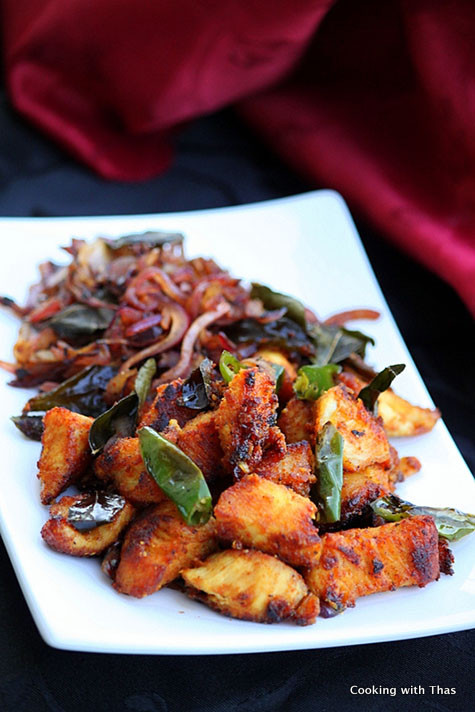 Delicious chicken 65, spicy and deep fried chicken appetizer….
I am still not sure how this dish got the name chicken 65, what does 65 represent? There are several interesting stories about the name; some say the marinade was made with 65 ingredients, others say it has 65 chili peppers and yet others say it was first introduced in 1965. I am pretty sure about one thing though, this is one of the tastiest chicken appetizers. Once tasted, it's not that easy to forget about this dish.
I had this as an appetizer at an Indo Chinese restaurant in Chicago, that kind of made me feel that this is an Indo Chinese dish. Apparently, this dish was originated in Chennai and that makes it absolutely South Indian.
Bite size chicken pieces mostly boneless are coated with a spicy yogurt marinade and allowed to rest overnight so that all the flavors will get into the chicken and makes it tender too. The chicken is then deep fried till nice golden brown in color. In restaurants, red color will be added to the marinade, now that explains the vibrant red color of this dish. Also, a tempering with mustard seeds/curry leaves and onion will also be made and garnished over the fried chicken which makes this dish even more delicious and aromatic.
A perfect chicken appetizer, even the kids will love it. Usually, this dish is very spicy, but you could always adjust the spice level according to your needs. I'd added pan fried onion tempering to the fried chicken, tasted delicious.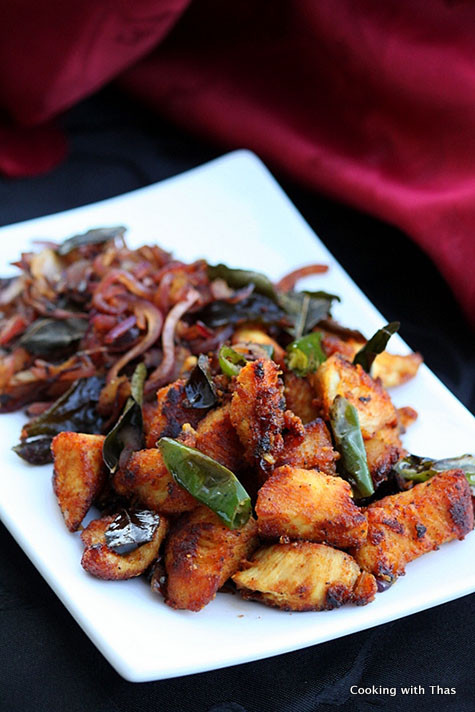 Chicken 65 Recipe - Delicious Chicken 65
Ingredients
For marinating chicken
Boneless Chicken breast or thighs, cubed evenly- 3 breasts or thighs
Ginger-garlic paste- ½ tbsp
Kashmiri red chili powder- ¾ to 1 tsp
Coriander powder- 1½ tsp
Turmeric powder- ⅛ tsp
Ground cumin- ½ tsp
Garam masala- ½ tsp
Ground pepper- ½ tsp
Corn flour- 1 tbsp
White Vinegar- ½ tbsp (or use lemon juice)
Yogurt- 3 tbsp
Tomato ketchup- 1 tbsp (optional)
Curry leaves- 1 sprig
Salt- to taste
For making tempering
Oil,used for frying chicken- 2 tbsp
Mustard seeds- 1 tsp
Green chilies, halved- 3
Curry leaves- 2 sprigs
Red onion, sliced thin- 1
Chili powder- ½ tsp
Vinegar- 2 tsp
Salt- to taste
Other ingredients
Oil- for deep frying chicken
Instructions
You could either use chicken breasts or thighs, thighs will turn more softer and tender.
In a bowl, combine all the ingredients mentioned for marinating chicken. Keep refrigerated for 3 hours or overnight the better.
Place a frying pan over medium heat, add enough oil for deep frying and let the oil turn hot.
Add the marinated chicken pieces without crowding and deep fry over medium heat till golden brown in color. Do not fry over high heat.
Fry the chicken in 3 to 4 batches.
Transfer the fried chicken to a kitchen paper towel. Keep aside.
For making tempering
Place a non-stick pan over medium heat, add 2 tbsp oil used for frying chicken.
Add mustard seeds, let it splutter.
Add green chilies and curry leaves, saute for a minute.
Add sliced red onion, season with salt, saute till onions turn golden brown.
Add chili powder, saute for a few seconds.
Add vinegar, combine well.
Remove the pan from the heat.
While serving, garnish the red onion tempering over the chicken 65.
Enjoy this delicious chicken 65 appetizer.
Notes
In restaurants, red color will be added to the marinade, that explains the vibrant red color of this dish.