Ghee roasted plantain, vermicelli, coconut, egg and cashew nuts, combined together to make this incredibly delicious cutlets…
I've posted many recipes using plantain as I'm a die hard fan of plantain. So glad that plantains are always available at the Canadian grocery store that I shop every week. I try to make something different out of plantains each time, though my most favorite still is ghee roasted plantains.
This time, I combined vermicelli, ghee roasted plantains, roasted coconut, egg and cashew nuts together and made into cutlets. Tasted delish!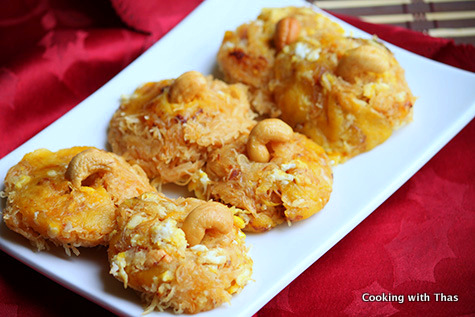 Plantain Vermicelli Cutlets
Ingredients
Ghee- 2 tbsp
Ripe Plantain, cubed- 1
Thin Vermicelli, cut 3 inches- 2 cups
Condensed Milk- 4 to 5 tbsp
Water or Milk- ¼ to ½ cup
Saffron- 2 pinches, soaked in ½ tbsp water for 5 minutes (optional)
Grated Coconut- ¼ cup
Egg- 1
Sugar- 1 tsp
Cashew Nuts- ¼ cup
Instructions
Place a non-stick pan over medium heat, add ½ tbsp ghee.
Add grated coconut, roast till light golden in color.
Keep aside on one side of the pan.
Break the egg onto the pan and scramble the eggs. Add sugar, combine well.
Combine with the roasted coconut. Keep aside the roasted coconut and egg on a plate.
Cut the ripe plantain into small cubes
Add 1½ tbsp ghee to the pan, add the cubed plantain and roast till golden brown. Keep aside.
In the same pan, add vermicelli, saute for a minute.
Add condensed milk, water or milk and soaked saffron. Combine well and cook till vermicelli turns soft. Do not over cook and make it mushy.
Add the roasted plantain, coconut and egg to the cooked vermicelli and combine everything well.
Add cashew nuts, combine well.
Remove the pan from the heat, let cool down a bit.
Make medium sized round patties.
Enjoy as an evening snack or for breakfast.