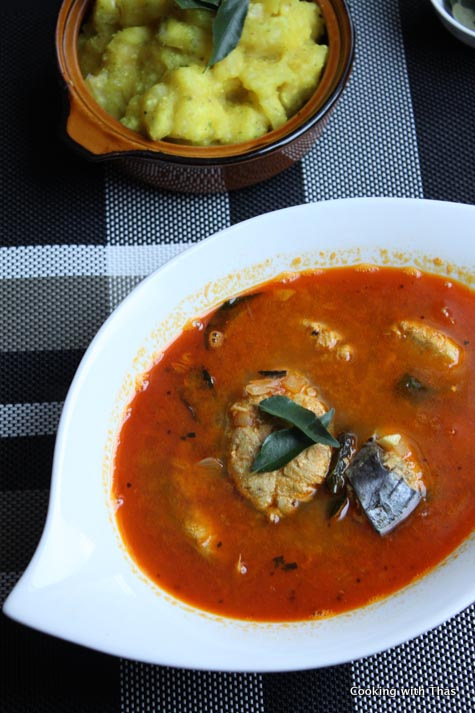 My all time favorite fish curry…
How many times have I mentioned that Kappa (Tapioca) and fish curry is a match truly made in paradise??? A gazillion??? I will keep on saying this, so please bare with me. If I hadn't born and raised in Kerala I wouldn't have admired this dish as much as I do now. As many of you know that Kerala food is spicy and is very flavorful, in fact very very flavorful. You wouldn't come across any blant food while in Kerala. Chances are that if you are a non-Keralite and dining in a restaurant you would make a request to the chef to go easy on the spices 🙂 And yes you will drink a lot of water too. Once I took one of my Chinese friends to a South Indian restaurant and the only thing she did was sipping water.
According to me, one of the benefits of being a Keralite is that we know how to enjoy both spicy and non-spicy food ( at least we try to). If you are someone who grew up eating non-spicy food, it would be hard for you to handle spicy food. When I first moved to the US, after a few weeks of eating chicken I started craving for fish. My hubby took me to an American restaurant and we ordered salmon. I took a bite of the salmon and I asked my man "where's the spice???" He passed the freshly ground pepper to me and asked me to sprinkle over the fish. I kept sprinkling and sprinkling…Well, it took some time for me to get used to the non-spicy and blant dishes in other cuisines. At times, when I cook other cuisines in my kitchen I get tempted to add chili powder as well.
Have you ever thought about the reason for adding so much spice and tamarind to fish curries in South India? Well, during the times when there were  no refrigerator to store/preserve the fish, the only way the primitive people had was by adding more spice and tamarind juice. Also, fish was in abundance in South India. People got used to the spice; even after the invention of refrigerators we continue to add spices and tamarind to the fish curries. The reason why we add now is: it's damn delicious!
I had already posted the recipe for making a few types of fish curries that are commonly made in my family and in Kerala. This one is yet another kind of fish curry which I often make to serve with Kappa. This is a very easy recipe that can be made in no time and the tastes terrific too.
I used king fish or neymeen, you can use any kind of fish. Sardines (Chaala), mackerel (ayala), Pomfret (avoli), anchovies (netholi), tilapia etc.
For more fish curry recipes, click here
Kappa or Tapioca recipes, click here
Step by Step Pictures
Kerala Style Easy King Fish Curry or Neymeen Mulagu Curry
Ingredients
King fish, medium sized- 8 pieces (or add any other fish)
Coconut oil- 2 tbsp
Mustard seeds- 1 tsp
Fenugreek seeds- ½ tsp
Curry leaves- 1 sprig + more for garnishing
Ginger, minced- ½ tbsp
Garlic, minced- ½ tbsp
Green chili, minced- 2 or 3 ( add more based on your spice level)
Small onions, chopped- 12
Turmeric powder- ¼ tsp
Kashmiri red chili powder- 1½ tsp
Coriander powder- 1½ tsp
Ground black pepper- ½ tsp
Tamarind, fresh- 2 inch soaked in ½ cup warm water (strain the juice)
Warm Water- 1 cup
Salt- 1½ tsp
Instructions
While cleaning the fish add salt and rinse the fish under running water, salt will help to remove any odor in the fish.
Soak 2 inch slice fresh tamarind or golf size tamarind in ½ cup warm water for 5 minutes, squeeze the tamarind in water to extract the juice- strain the juice & discard the skin. If using concentrated tamarind paste use very less (1 tsp or so) according to your needs.
Place a claypan or non-stick saucepan over medium heat.
Add coconut oil, let turn hot.
Add mustard seeds, let it splutter.
Add fenugreek seeds, saute for a few secons till it turns light brown in color.
Add curry leaves, saute well.
Add minced ginger, garlic and green chilies, saute till they turn golden in color.
Add small onions, and 1 tsp salt; saute till onions turn translucent.
Add turmeric powder, kashmiri red chili powder, coriander powder and ground black pepper to the onions, saute for a few seconds. Don't burn the spices.
Add tamarind extract, combine well.
Add warm water and ½ tsp salt, let the gravy come to a boil.
Add the king fish, cover the pan with its lid.
Cook covered over medium heat for 5 minutes.
After that lower the heat and cook for 10 minutes till the gravy has slightly thickened.
Have a taste, add more salt or ground pepper if needed.
Garnish with more curry leaves.
Serve this fish curry along with Kappa (tapioca), rice, appam, idiyappam or chapati.