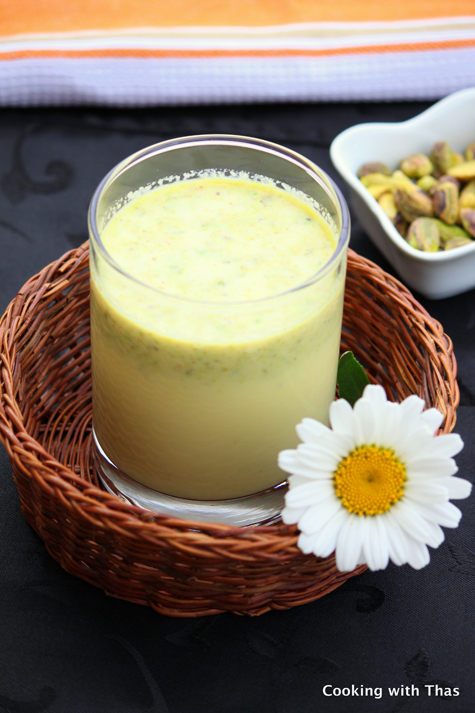 Chilled pistachios and saffron flavored milk tastes phenomenal and is perfect to enjoy on a hot day…
I go nuts for all kind of nuts and I have a special craze for pistachios. My most favorite aromatic spice is Saffron, any dish with a hint of saffron in it becomes my favorite. I add saffron to most of the Indian desserts and to biryanis. After a stressful day, when I need to soothe my body and mind: I boil milk with saffron in it, the saffron would release its yellow color and starts to spread its aroma into the milk. The saffron milk when chilled tastes delicious and is great for a sound sleep.
The other day, I also added pistachios into the milk along with saffron and boiled the milk till it got aromatic. Instead of sugar, condensed milk was added which made the milk more rich and creamy. Even the hot milk tasted delish. I then chilled the milk and waited eagerly to devour it. The chilled pistachios and saffron milk tasted out of the world, it was creamy, aromatic and crunchy with the bite of pistachios.
A perfect milk to serve for Iftar or to enjoy on a hot day.
Here is the recipe for making Saffron Milk with Basil seeds
Pistachio and Saffron Flavored Milk- Chilled Pista and Saffron Milk
Ingredients
Milk- 2 cups
Condensed milk- 3 to 4 tbsp
Coarsely Ground Pistachios- ¼ cup
Saffron- 2 pinches
Instructions
In a food processor, coarsely grind the shelled pistachios.
Place a saucepan over medium heat, add milk, condensed milk, saffron and coarsely ground pistachios, combine well and let the mixture come to a slight boil.
When the milk comes to a slight boil, lower the heat and let cook for a couple more minutes.
Remove the pan from the heat and let cool down.
Chill the milk in the refrigerator for 1 to 2 hours.
Serve in a glass.
Enjoy this rich and delicious milk, the taste is heavenly.
Notes
Increase the ingredients accordingly to make more.