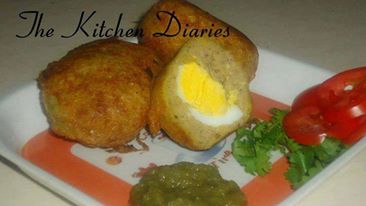 Nargisi Kabab : my favourite kabab which I learnt from my mum: the creamy texture of kabab & the surprise boiled egg inside aahaaaaa 🙂 this is my mum's authentic recipe 🙂

Nargisi Kabab
Ingredients
kheema or ground beef/lamb- ½ kg
Chana dal (split chickpeas ) - 1 cup
Garlic - 10 medium size cloves - chopped
Ginger - about 1 inch - chopped
Green chilies - 5 or to taste - chopped (mine was very hot so I took only 4)
Whole cumin - 2tsp
Garam masala - ¼ + ⅛ tsp
Coriander leaves - ½ cup - finely chopped
Salt to taste
Bread crumbs
Eggs, boiled- 5-6
1-2 egg beaten (for coating)
For making Green Chutney
Green chilies- 10
Onion, chopped- 1
Garlic paste- 1 tsp
Salt- 1 tsp
Coriander leaves -1 bunch
Mint leaves (optional)- 1 bunch
Juice of 1 lemon
Instructions
Soak the dal in water for 1 hour & wash it.
Wash kheema & drain the water.
Boil kheema, dal, ginger, garlic, green chilies, whole cumin, salt & add ¾ glass of water.
When it start boiling & half done, cover the lid and keep on boiling on low heat for 5- 10 mins (check occasionally). When its almost done & little water is remaining ,put the flame high & cook it all water gets dried up & remove from the flame & let it cool completely.
Make a paste of the mixture in the grinder (DONT ADD WATER). Take the paste in a plate, add garam masala powder & chopped coriander and mix it well.
Boil the eggs & cut them into halves.
Now take the small amount of kabab mixture, flat it into palm (NOT TOO THIN NOR TOO THICK), keep one piece of half egg in the middle and cover it fully by folding the kabab mixture towards inside. If needed take little amount of mixture to cover the egg full. Coat it into bread crumbs and keep it in the plate. Like wise make all the kababs.
Keep them aside for atleast one hour.
Now dip the kabab in the beaten egg & deep fry them till it becomes golden brown & enjoy hot with green chutney
For making green chutney, blend all the above mentioned ingredients together until smooth and thick &enjoy with the kababs.