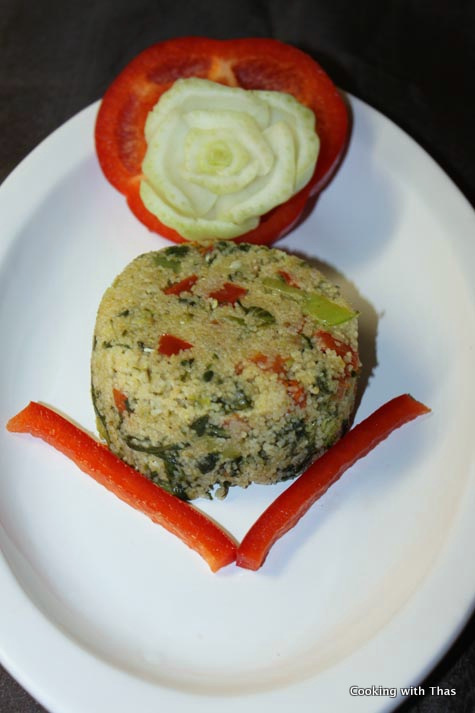 Two of my staple foods: pesto and couscous…
Pesto has been one of my most favorite ingredients and I dare to add it to most of the dishes I make. Pesto never fails to enhance the flavor and the taste of any dish, such a phenomenal sauce made with aromatic and healthy ingredients like basil, pine nuts and parmesan cheese. Pesto is always seen in my refrigerator and I want my pizza base spread with pesto, my pastas combined with pesto, veggies roasted with pesto, chicken rubbed with pesto, the list is endless…
The other day, I combined couscous with pesto. Just a few tablespoons of pesto and the blant couscous was instantly transformed into a delicious dish. I didn't even add any meat to this dish, pesto made all the difference.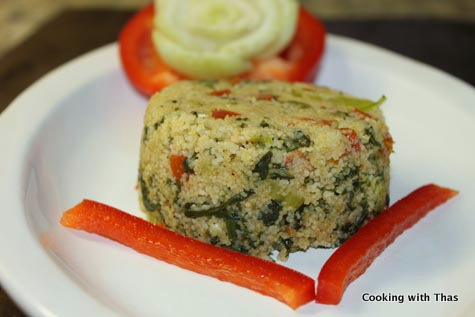 Pesto Couscous
Ingredients
Olive oil- 1 tbsp
Spinach, chopped- 1½ cups
Red pepper, diced- 1
Cherry tomatoes- 8, chopped
Pesto- 3 tbsp
Couscous, cooked- 2 cups
Instructions
Place a non-stick pan over medium heat, add olive oil.
Add spinach and red pepper, stir fry for a few minutes.
Add cherry tomatoes and stir fry till it's slightly mashed up.
Add pesto and saute till aromatic for a couple of minutes.
Add the cooked couscous, combine well and saute for a minute.
Serve warm as a side dish or as a main dish.
Notes
You could even add chicken to this dish.
Step by step pictures