Delectable & flavorful cashew chicken cooked in the Instant Pot…
In just 15 minutes, you will be seen enjoying this delicious cashew chicken, which tastes like restaurant-style. Chicken marinated with soy sauce & pressure cooked in the Instant Pot, followed by stir-frying with cashew nuts, onions & green peppers. Incredibly tasty & made effortlessly.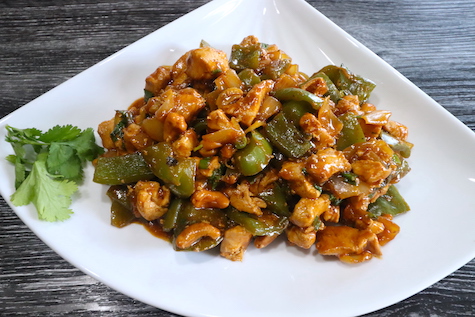 Cooking Video
15 Minute Instant Pot Cashew Chicken | Asian Style Easy Recipe
Ingredients
For marination
Boneless chicken breast, diced- 2 breasts or thighs
Soy sauce- 2 tbsp, low- sodium
White pepper powder- ½ tsp (or add black pepper powder)
Brown sugar or palm sugar- 1 tsp
For cooking
Garlic, chopped- 1 tbsp
Cashew nuts- ½ cup
Onion, diced- 1
Green pepper, diced- 1
Oyster sauce- 1 tbsp
Tomato paste- 1 tbsp
Dark soy sauce- 1 tsp
Water- ½ cup
Cornstarch slurry- 1 tbsp cornstarch combined with 1 tbsp cold water
Green onions, chopped- 2 tbsp
Cilantro, chopped- ¼ cup
Sesame oil- 1 tsp
Instructions
In a bowl, combine chicken along with the above-mentioned 'for marination' ingredients.
Let marinate for 15 minutes.
Place the stainless steel pot in the main pot.
Add the marinated chicken to the pot.
Add garlic, combine well.
Don't have to add water.
Close the pot with the lid.
Select pressure cook setting, set time to 3 minutes at high pressure.
After 3 minutes of pressure cooking, do a quick pressure release.
Open the lid.
Chicken will be cooked well & there will be some liquid in the pot.
Select Saute setting, temperature should be normal or medium.
Add cashew nuts to the chicken.
Add onions & green pepper, combine well.
Close the pot with a glass lid & cook for 3 minutes.
Let the vegetables turn soft, don't over cook the green pepper.
Add oyster sauce, tomato paste & dark soy sauce; combine well.
Add ½ cup water, combine well & cook for a minute.
Add cornstarch slurry, combine well. The sauce will thicken & turn glossy.
Add green onions & cilantro, combine well.
Finally, add sesame oil, will enhance the flavor & taste of this dish.
Remove the pot from the main pot.
Serve onto a plate or bowl, enjoy with rice or noodles.