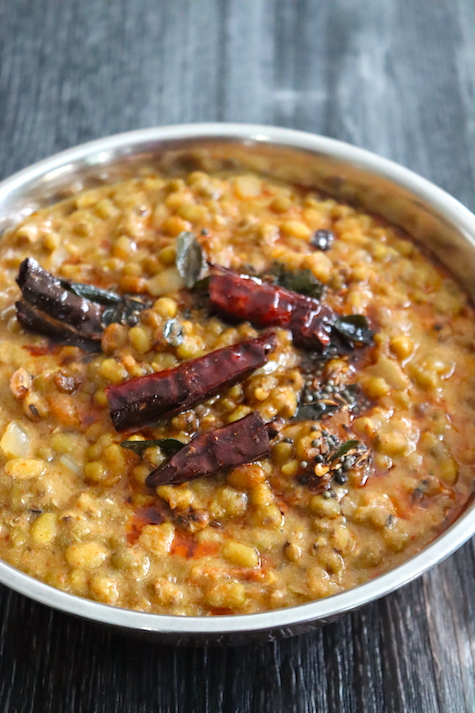 Mung bean or green gram in yogurt curry, protein-packed & delicious…
If you haven't included mung bean in your diet, it's big time you should include that. It has impressive health benefits, is packed with nutrients, is high in antioxidants, can reduce blood pressure, high in fiber & great for weight loss it will suppress hunger by elevating fullness hormones.
Mung bean is native to India & later spread to China & Southeast Asia. In India, a variety of sweet & savory dishes are made with mung bean.
This has been one of my favorite legumes, it's very versatile & I enjoy the slightly sweet taste of it.
Sharing a delicious & healthy curry that can be made with mung beans, I make this quite often & enjoy with rice or chapati.
Mung Bean Curry Cooked In The Instant Pot | Easy Healthy Indian Vegetarian Recipe - For Weight Loss
Ingredients
Mung bean or green gram- 1 cup, soaked
Coconut oil- 1 tbsp
Dried bay leaf- 1 (optional)
Onion, chopped- 1
Ginger-garlic paste- 1 tbsp
Tomato, chopped- 1
Kashmiri chili powder- 1½ tsp (based on your spice level)
Turmeric powder- ⅛ tsp
Coriander powder- 1 tbsp
Salt- 1½ tsp
Water- 1½ cups
Beaten Yogurt- 1 cup
For tempering
Coconut Oil- 2 tbsp
Mustard seeds- 1 tsp
Dried red chilies, halved- 2
Cumin seeds- 1 tsp
Curry leaves- 10 leaves
Kashmiri chili powder- ½ tsp
Instructions
Soak the mung beans in 3 cups of water for 2 to 3 hours.
Discard the water and rinse the mung beans taken in a sieve under running water.
Turn on the Instant pot.
Turn on Saute setting and let the stainless steel pot turn hot.
Add oil, let oil turn hot.
Add bay leaves & onion, season with ½ tsp salt, saute for 2 minutes.
Add ginger-garlic paste & tomato, combine well & cook for a minute.
Add turmeric powder, chili powder, coriander powder and ½ tsp salt, combine well.
Add rinsed and soaked mung beans.
Add 1½ cups water & combine well.
Close the pot with the lid.
Cancel saute setting.
Select pressure cook setting, at high pressure and set the time to 20 minutes.
After 20 minutes of pressure cooking, let the pressure release naturally for 5 minutes & then do a quick pressure release.
Open the lid, combine everything well.
Take the yogurt in a bowl & beat it well using a whisk.
Add the beaten yogurt, ½ tsp more salt; combine well.
Let the stainless steel pot rest in the main pot for 2 minutes.
Don't cook the curry after adding yogurt, it will curdle.
Take the pot from the main pot & keep it covered.
Make the tempering: heat up a small frying pan, add oil & let turn hot.
Add mustards seeds, let splutter.
Add dried red chilies, cumin seeds & curry leaves; saute for a few seconds.
Take the pan off the heat & add ½ tsp Kashmiri chili powder, mix well.
Immediately pour the tempering over the mung bean curry.
Close the pot with the lid for some time, let all the aroma from the tempering infuse into the curry.
Enjoy with rice or chapati.