Green Dosa or Mung bean (green gram) crepes…
This is a diabetic-friendly and healthy dosa or crepe. The batter is made with mung beans and rice, while in Dosa urad dal is used instead of mung beans. For making this dosa, you don't have to wait for the batter to ferment, grind the batter and make the crepes right away.
This dosa is quite popular in Andhra Pradesh in India and is called Pesarattu in Telugu. This is mostly served with coconut or ginger chutney. I made a spicy coconut chutney and served it with this. Loved this dosa and it tasted so good along with the chutney.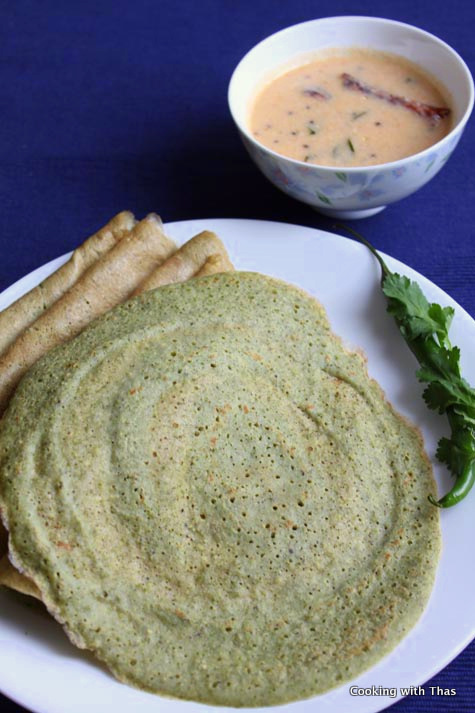 For Best Tasting Coconut Chutney Recipe, click here
Preparation Pictures
The batter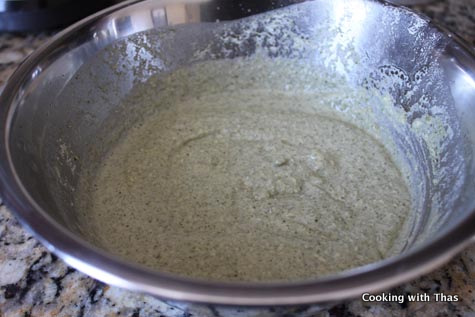 Spread the batter on the pan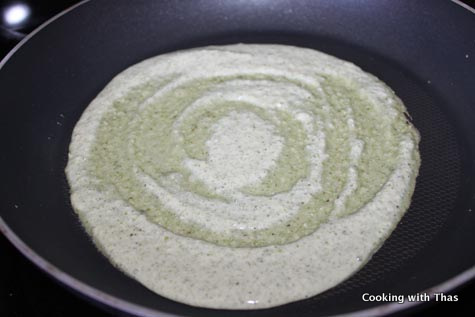 Cooking the crepes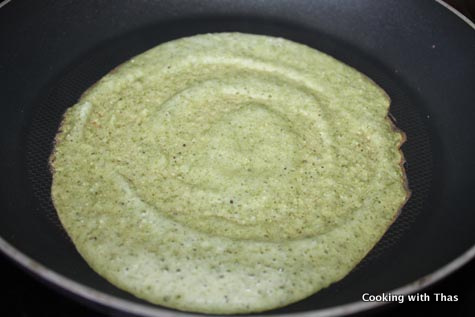 Pesarattu or Moong Dal Dosa or Crepes
Ingredients
Mung beans or Green gram (with skin)- 1 cup
Rice, white rice- ½ cup (Sona Masoori rice)
Ginger, chopped- 1 inch slice
Green chili, chopped- 1
Small onions- 3 (or 1 shallot)
Salt- 1 tsp
Water- 1 cup while grinding + more to thin down batter
Instructions
In a large bowl, soak the mung beans and rice in water overnight or for 5 hours.
I've added Sona Masoori rice.
Drain the water, add the soaked mung beans and rice to a blender jar along with ginger, green chili, small onions and 1 cup water.
Grind to a smooth batter, pour into to a large bowl.
Let the batter rest for 15 minutes.
Before making the dosa, add enough water to the batter to thin it down.
Add salt & combine well.
Place a non-stick pan or tawa over medium high heat.
Grease with non-stick cooking spray.
Pour 1 large spoonful of batter onto the pan, using the back of the spoon spread the batter to a round shape.
Let the bottom side cook and turn golden in color.
Flip it over and cook the other side as well.
Transfer to a plate, enjoy with coconut chutney.