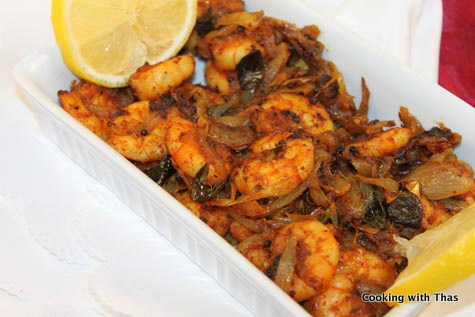 Shrimp, the gem of the ocean…
I am an ardent shrimp lover and I can have it every day without getting tired of it. I still remember how I used to request the lady who used to sell fish to us to bring fresh shrimp for me and she had never failed to do so. I always felt sad for her as she walked barefoot to each and every house until she sold all the fishes in her basket. Yet, she loved her job and always had a smile on her face. What a strong woman! My most favorite way of cooking shrimp is by frying it. Whenever my mom got really large shrimp, she used to fry it and I used to get very selfish trying to eat it all by myself 😛
Fried shrimp is without a doubt tasty but not that healthy if you make shrimp often. So to make it healthy, I often make this shrimp roast. After cooking the shrimp, I stir fry till it turns slightly caramelized, this way the shrimp tastes more like fried shrimp.
Shrimp Roast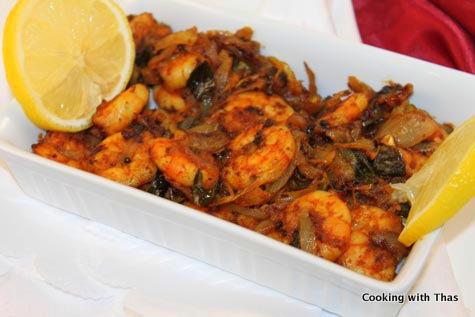 Cooking Video
Shrimp Roast
Ingredients
For Marinating Shrimp
Shrimp- 15 (if large, half the shrimp)
Chili powder- 1½ tsp
Turmeric powder- ¼ tsp
Coriander powder- 2 tsp
Garam Masala- ¾ sp
Salt- 1 tsp
Making Shrimp Roast
Coconut Oil- 2 tbsp
Onion, chopped- 4
Ginger- Garlic paste- 1 tbsp
Curry leaves- 1 sprig
Tomatoes, chopped- 2
Kashmiri chili powder- 1 tsp
Black ground pepper- ½ tsp
Salt- 1½ tsp
Cilantro, chopped- 2 handfuls
Instructions
Firstly, let's marinate the shrimp.
Into a bowl, combine shrimp with all the spices mentioned 'for marinating shrimp'. Keep aside.
Place a saucepan over medium heat, add oil.
Add chopped onions, season with 1 tsp salt.
Saute for a few minutes.
Add ginger-garlic paste, and curry leaves saute till onions turn golden brown. This will take sometime, saute the onions ocassionally to prevent sticking to the pan.
Add tomatoes, cook till mashed up.
Add the marinated shrimp.
Cook covered till shrimp has cooked well and the water dries off.
Open the lid, saute and cook till the roast turns slightly dry.
For a nice vibrant red color, add Kashmiri chili powder, combine well.
Add ground pepper, combine well.
Taste and add ½ tsp salt.
Add chopped cilantro, combine well,
Remove the pan from the heat and keep covered.
Serve along with rice, chapati, poori, appam, idiyappam etc.