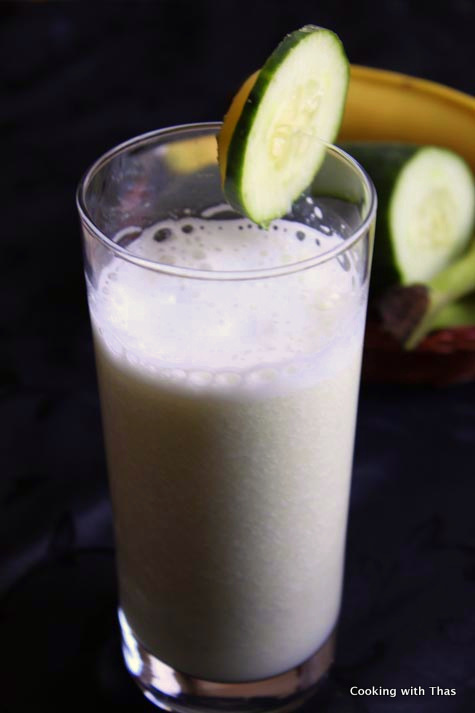 It's refreshing to the core…
This cucumber milkshake might not be great to sip during cold winter days, still I sipped it and felt refreshed instantly. I am waiting for Summer so that I can make more of this milkshake and enjoy the cool wave from this milkshake.
Cucumber with it's high water content and being a natural coolant is an unavoidable companion during Summer. On days when our brain feels foggy and congested, keeping cucumber slices on the eyes helps to cool off the brain and mind. Sipping this milkshake will give the same effect, you can feel the coolness all over your body and it lightens up the mind.
Visiting my hometown means visiting all the relatives and friends; which means, it will give them a chance to showcase all their culinary skills and to feed us till we pass out. When I visited one of our neighbors, they served us this cucumber milkshake. It was quite different from the other milkshakes we had at other houses. Since, it was humid weather in my hometown that time; this cucumber milkshake was so refreshing. I immediately noted the simple recipe for making this and had been thinking of posting the recipe since then.
Sip this milkshake and feel refreshed…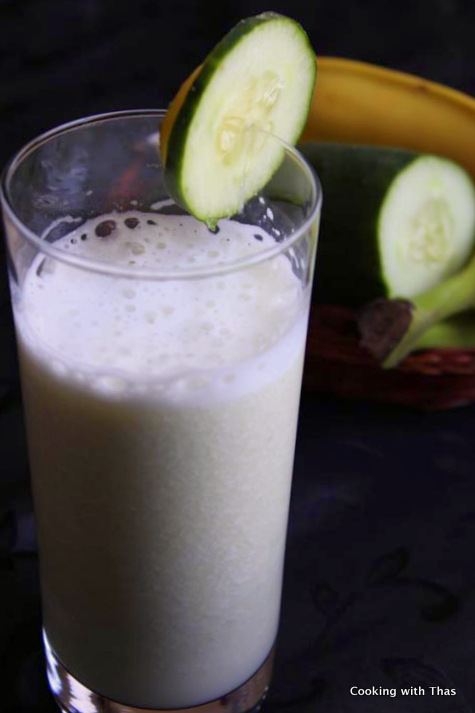 Cucumber Milkshake - Refreshing Milkshake
Ingredients
Cucumber, peeled- half the large cucumber or use one small salad cucumber
Ripe Banana- half the banana or use one small banana
Sugar- 1 tbsp
Milk, chilled- 1 cup (or use ½ cup milk and ½ cup water)
Instructions
In a blender, blend the above mentioned ingredients to a smooth constituency.
Pour into a glass and serve immediately.