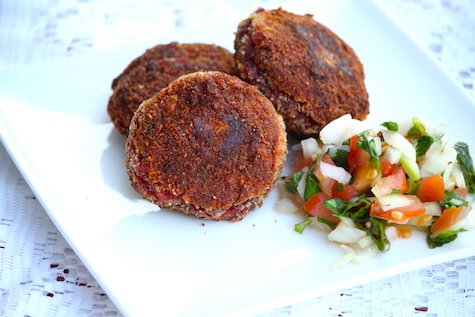 Turn beets into a delicious fried snack, beets cutlet or fritters…
Lately, I've been obsessed with beet juice and even made my Man drink it. He frowned and then gulped it down. For that, he deserved a delicious snack out of beets. Made this beetroot cutlet on a Sunday evening and we both enjoyed it. You wouldn't feel the earthy beet taste in this cutlet, hence anyone who dislikes beet for its earthy taste like my Man would enjoy this cutlet.
Cooking Video
Beetroot Cutlets- Beet Fritters
Ingredients
For making the cutlet
Beetroot, grated- 1 cup
Onion, chopped- ½ cup
Ginger- Garlic paste- 1 tsp
Chili powder- 1 tsp
Turmeric powder- ⅛ tsp
Cumin powder- ½ tsp
Coriander powder- 2 tsp
Garam Masala- ½ tsp
Salt- 1 tsp
Mashed potatoes- 2 medium potatoes
Cilantro, chopped- ¼ cup
Other Ingredients
Corn Starch- ¼ cup
Water- ¼ cup
Breadcrumbs
Oil- enough for frying
Easy Salad for Cutlet
Onion, minced- 1
Tomato, chopped small- 1
Green Chili, minced- 1
Cilantro, chopped- 3 tbsp
Freshly squeezed Lime or Lemon juice- 1 tbsp (or add ½ tbsp white vinegar)
Salt- ½ tsp
Instructions
Cook 2 medium potatoes in the microwave or cook in boiling water till well cooked. Let cool down, peel off the skin and mash well.
In a bowl, combine all the ingredients 'for making the cutlet.
Make medium sized patties, flatten between the palm of your hands. Keep aside.
In a bowl, combine corn starch with water.
Spread breadcrumbs on a plate.
Place a non-stick frying pan over medium heat, add oil and let turn hot.
Dip the patties in cornstarch-water and then coat with breadcrumbs.
Drop them in the oil and deep fry till golden brown.
Transfer the fried cutlets to a kitchen paper towel.
In a bowl, combine all the ingredients mentioned for making the easy salad for cutlet.
Instead of lemon juice, ½ tbsp white vinegar can also be added.
Serve the cutlets along with easy salad: tastes delicious. I prefer this salad to tomato ketchup.
Notes
Mashed potatoes can be replaced with mashed cauliflower- healthy alternative.