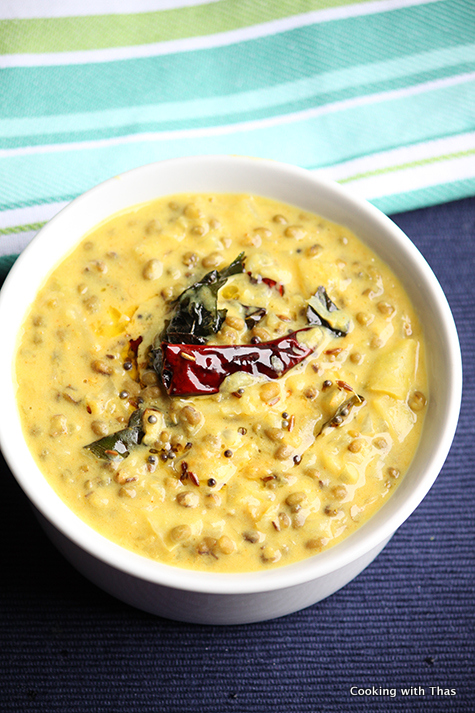 Mung bean and cabbage kadhi or mung bean and cabbage in gram flour-yogurt sauce, a healthy and tasty North Indian dish…
One of my favorite Rajasthani dishes is Kadhi, in which the gravy is made by combining gram flour and yogurt. To the cooked gravy, veggie fritters or beans or mixed vegetables can be added. I had once tried veggie fritters kadhi and loved it. I loved the slightly sour taste of the kadhi from the yogurt, the nutty taste from the gram flour and the crispy veggie fritters made the whole dish delicious.
The other day, I made mung bean and cabbage kadhi. Among the legumes, my most favoirte is mung bean. I had come across a lot of kadhi recipes in which different kinds of legumes are added. My pick was mung bean, I also added shredded cabbage to it. Tasted delicious, this can be served as a soup or can be served along with plain rice or roti.
Gorgeous Peonies in full bloom in my garden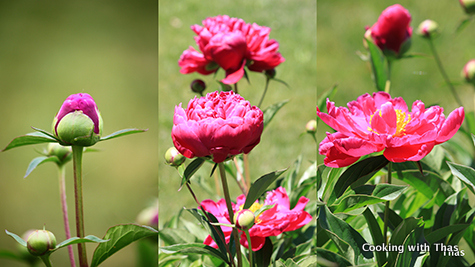 Recipe for making Kadhi Pakora or Veggie Fritters in Yogurt-Gram flour gravy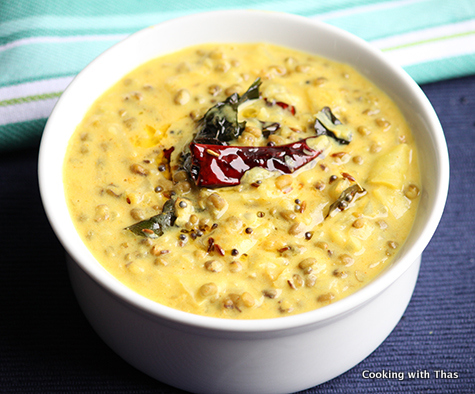 Preparation Pictures
Making Mung bean and Cabbage Kadhi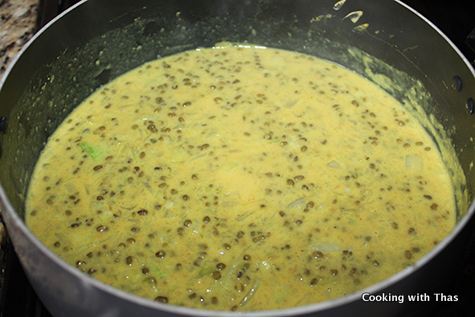 After adding the seasoning over the kadhi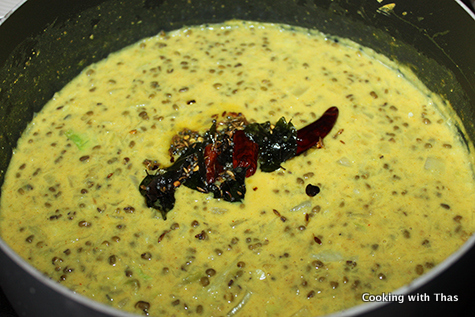 Mung Bean and Cabbage Kadhi Recipe
Ingredients
For making Gravy
Yogurt- 1 cup
Gram flour or Besan- ¼ cup
Turmeric powder- ¼ tsp
Chili powder- 1 tsp
Coriander powder- 1 tsp
Salt- to taste
Water- 2 cups
For making Kadhi
Oil- ½ tbsp
Cabbage, shredded- 2 cups
Cooked Mung bean- 1 cup
For making seasoning or tempering
Ghee-1 tbsp
Mustards seeds- 1 tsp
Cumin seeds- 1 tsp
Whole dry red chilies- 2
Curry leaves- 1 sprig
Instructions
In a pressure cooker, cook 1 cup mung bean in 2 cups water till 2 whistles. Keep aside the cooked mung bean.
Place a pan over medium heat, add oil.
Add shredded cabbage along with ¼ cup water and a few pinches of salt, cook covered till cabbage turns tender for about 10 to 15 minutes. Keep aside the cooked cabbage.
In a large non-stick saucepan, whisk yogurt and gram flour together without any lumps.
Add turmeric powder, chili powder, coriander powder, salt and water to the yogurt mixture, combine well using a whisk without any lumps and smooth.
Place the pan over medium heat and cook the yogurt-gram flour mixture. Keep stirring to avoid the formation of lumps.
Cook till the mixture starts to boil. Lower the heat and simmer for 5 minutes.
Add 1 cup cooked mung bean and cooked cabbage into the gravy, combine well and cook for a few minutes.
Taste and add salt if needed.
Remove the pan from the heat and keep it covered.
Place a small frying pan over medium heat, add ghee.
When the ghee turns hot, add mustard seeds, let it splutter.
Add cumin seeds, whole dry red chilies and curry leaves, saute for a few seconds.
Remove the pan from the heat and pour the seasoning over the prepared mung bean and cabbage kadhi. Keep the mixture covered for a few minutes.
This can be served as a soup or along with rice or roti.