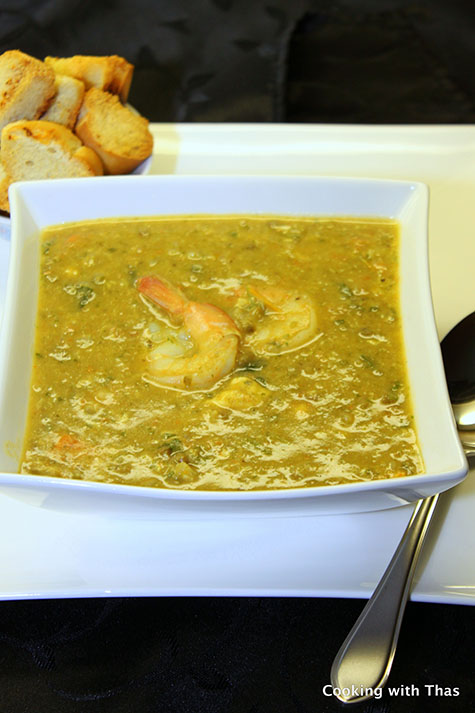 Hearty and healthy Mung bean and chicken soup topped with Shrimp…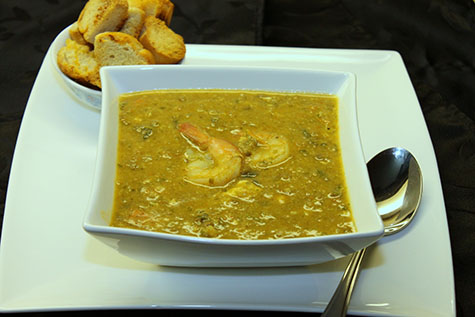 Chicken Mung Bean Soup
Ingredients
Mung bean- 2 cups
Water- 4 cups
For making Soup
Oil- 2 tbsp
Onion, chopped- 1
Chicken breast, diced small- 1 breast
Coriander powder- 1 tsp
Cumin powder- ½ tsp
Chili powder- 1 tsp
Ground pepper- ½ tsp
Carrot, diced- 2
Tomatoes, chopped- 2
Chicken stock- 4 cups (or use 2 cups chicken stock + 2 cups water)
Spinach- 2 cups
Cooked Shrimp- 10 (optional)
Cilantro, chopped- 2 handfuls
Instructions
In a pressure cooker, combine mung bean with 4 cups water and salt, cook till 3 to 4 whistles. Remove the cooker from the heat and let the pressure subside.
Heat a wide pan over medium heat, add oil.
Add onion, season with salt and saute till translucent.
Add diced chicken breast, season with coriander powder, cumin powder, chili powder and salt.
Cook covered till chicken has almost cooked.
Add carrot, tomatoes, spinach along with chicken stock. Cook covered till carrots have turned tender.
Add cooked mung beans to the pan, combine well and cook for a few minutes.
Add ground pepper.
In a blender or using a hand blender, puree half of the soup to a coarse paste.
Combine the soup well and place the pan over medium heat, add cooked shrimp and cilantro, cook for a couple of minutes.
Adding cooked shrimp is optional.
Taste and add more salt if needed.
Serve in soup bowls and enjoy with croutons or crackers.