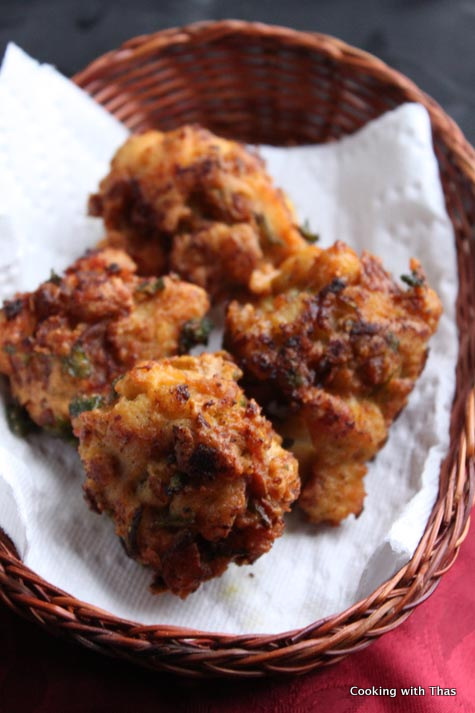 Rain+crunchy chicken pakoras= cozy deliciousness…
Wow, it's Friday evening and I feel so awesome as I've started reading the much awaited "And the mountains Echoed" by one of my favorite writers Khaled Hosseini. I'd been waiting for this book ever since I came to know that Khaled Hosseini's third novel is coming out on May. Finally, the wait is over. This evening I drove straight to Chapters after work and gracefully picked up my copy. As I roamed around  the store holding this book, a few of them told me " that's going to be an awesome read". Sure enough, I didn't have any doubts at the first place. After I checked out I was dragged towards the cozy Starbucks which was found inside the book store. I just needed chai tea latte, but the guy at the check out tempted me to buy the peach muffin as well. He was a pretty good sales person. After I got my chai latte and muffin, I went and sat on the very relaxing couch. Sipped the latte, had a bite of muffin and started reading. I kept reading, sipping and eating…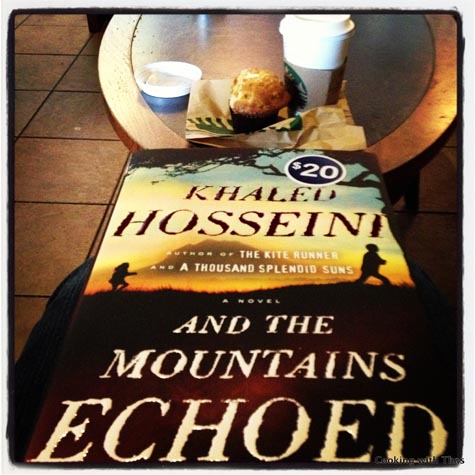 As soon as I finished the first chapter, my heart started to ache. That's the magic Khaled hosseini's writing has "your heart will ache, you will feel blessed and gifted, you'll get bonded with the characters in the novel, after you finish the book you'll appreciate life more". He did it again, this time with more depth and power. I came home and took a short break from reading as I wanted to share the chicken pakora recipe with you all.
It's official that the weather has been diagnosed with dipolar disorder. Oh my God, what a crazy weather we are having. Last weekend, we thought sizzling hot Summer is here. Yesterday, the temperature dropped down to 3 degrees C, I'd already buried my jackets and fleeces. Today's weather is no better, it's still cold, windy and gloomy. Yesterday's rainy weather triggered the craving for eating fried crunchy snacks, my man and I both were hit with the craving at the very same time. I assured my man that I would make chicken nuggets, he couldn't get any happier. I lined up everything that's needed to make the chicken nuggets on the island. However, for some reason my heart wasn't with the chicken nuggets idea. Before my brain could figure out what I was making, these chicken pakoras came out of the oil fried and crispy.   Usually, I first click the pictures, only after that I'll indulge in what ever dish I'd made. But these chicken pakoras didn't let me click first, they were so irresistible that I ate a few of them and then I clicked the pictures. In fact, I even ended up making a second batch. Do I have to say more to convince you???
After blogging this recipe, I am going to embrace the book. Well, I chose the right day to read the book as my man who had a long tiring day at work is sitting on the couch holding a sign board that says: "leave me alone". I don't think I would even look at him until I finish reading this book. I will be seen silent, lost and touched! Have a splendid weekend everyone and enjoy these crispy chicken pakoras!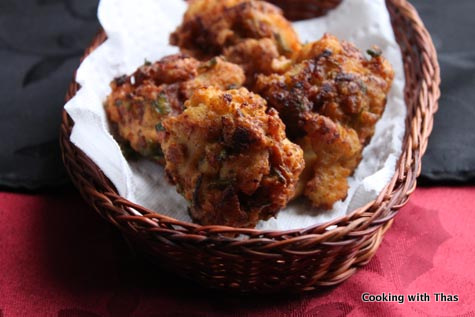 Cooking Video
Step By Step Pictures
Chicken mix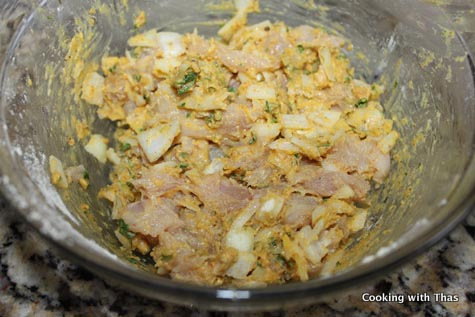 Frying Chicken Pakoras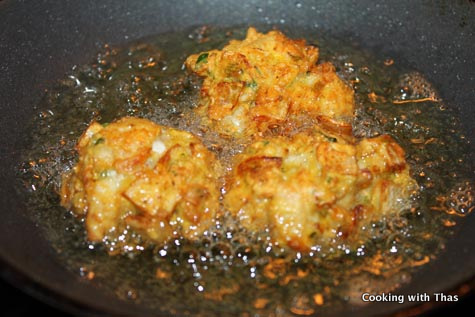 Chicken Pakora or Pakoda recipe: Crunchy Chicken Pakoras (Gluten Free)
Ingredients
Boneless chicken breasts, diced very small- 2 chicken breasts or thighs.
Onion, chopped small- 1
Ginger-Garlic paste- ½ tbsp
Chili powder- 1 tsp
Turmeric powder- ⅛ tsp
Garam masala- ½ tsp
Coriander powder- 1½ tsp
Salt- ¾ tsp
Gram flour or besan or chick pea flour- ½ cup
Rice flour- 2 tbsp
Cilantro, chopped- ¼ cup
Instructions
Dice the chicken very small.
In a large bowl, combine the chicken along with the spices and cilantro.
Add the gram flour and rice flour to the chicken mix and combine well using your hand.
Water is not required to combine the mixture, the moisture from the chicken will help to bind the flour and the chicken.
If water is required, add 1 to 2 tbsp.
Make small balls out of the mixture.
Heat enough oil for deep frying in a frying pan.
Add the balls into the hot oil and fry over medium heat. Don't crowd the balls.
Fry till the pakoras turn golden brown in color.
Transfer to a kitchen paper towel.
Serve warm with a cup of cardamom tea or coffee.