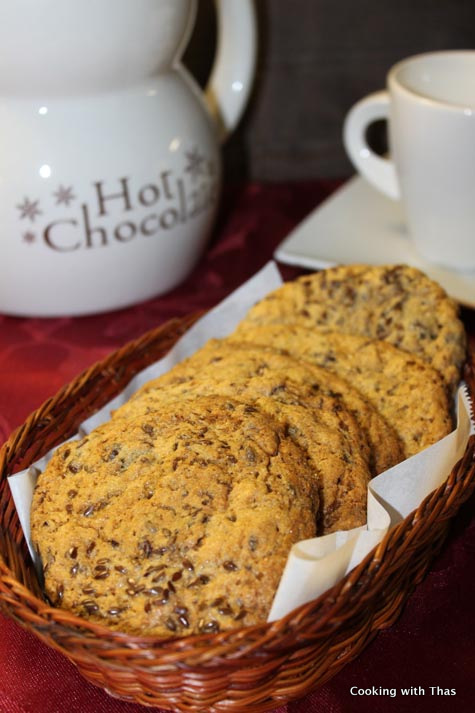 No flour added, just with peanut butter you can make these delicious cookies…
These are perfect for treating any gluten intolerant people or who loves peanut butter. I was amazed by the taste of these cookies, I couldn't believe it didn't have flour, tasted better than the cookies which has flour in it. Using a very few ingredients, without much preparation you can make these delectable cookies.
Though it only has peanut butter, I didn't feel the intense peanut taste in these so I indulged in it too.
Flourless peanut butter-chocolate chip cookies
Makes: 12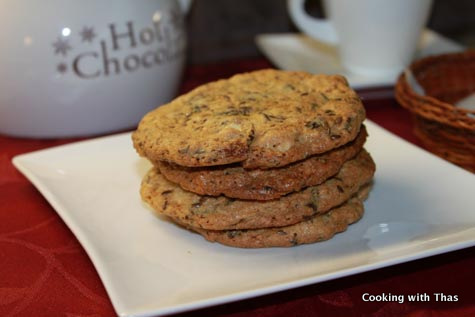 Recipe courtesy: Martha Stewart website

Flourless Peanut Butter-Chocolate Chips Cookies (Gluten Free)
Ingredients
Peanut butter, creamy- 1 cup
Sugar- ¾ cup
Egg, slightly beaten- 1, large
Baking soda- ½ tsp
Salt- ¼ tsp
Semi sweet chocolate chips- ¾ cup
Roasted cashew nuts or peanuts, slightly crushed- ½ cup
Flaxseeds (optional)- to sprinkle on dough
Instructions
Preheat oven to 350 F.
Since I used refrigerated creamy peanut butter it was little thick, so I had to slightly cream the peanut butter and sugar taken in a bowl using an electric hand mixer.
Don't over cream the peanut butter and sugar till it turns watery, it should be a thick mixture.
To the creamed peanut butter and sugar add the eggs, beat the eggs for a minute.
Add all the other ingredients and combine well using a spatula till everything has incorporated well.
I used roasted cashew nuts, you could use peanuts instead.
Make small balls out of the dough and place it on a baking sheet lined with parchment paper.
Sprinkle flaxseeds on top of each dough ball. This is just optional
If the dough is too wet and cannot be made into balls, you could refrigerate it for 20 minutes so that it will be easier to make into balls.
I didn't refrigerate the dough, it was slightly wet and I dropped small balls on the baking sheet.
Make sure you place the dough balls at least 3 inches apart as it will double in size while baking.
Place the baking sheet on the top rack in the oven and bake for 15 minutes till it's golden and puffed up.
After 15 minutes, remove the baking sheet from the oven, the cookies will be very soft.
Let cool down on the baking sheet for 10 minutes, once they cool down will firm up & turn crunchy.
Transfer to a plate and cool down completely.
Enjoy these delicious cookies.
Notes
I know it's tempting to taste the cookies as soon as it is out of the oven, it won't be set well though.
You have to let it cool down for at least 5 minutes, as it cools down it will set and harden a bit and tastes better.
Don't cream the peanut butter and sugar too much till it gets watery, it should be a thick mixture.
Refrigerate the dough so that it will be easier to work with.