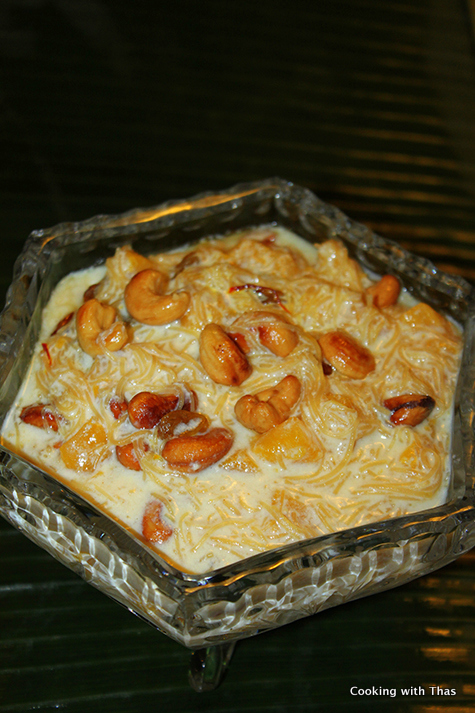 Mango and vermicelli cooked in sweetened milk, delicious dessert…
Hope everyone had a great Onam celebration. Onam is one of the biggest festivals in Kerala, India celebrated by all Keralites. Sadya, a grant vegetarian feast is served for Onam.
Sadya comprises of many vegetarian dishes, so making Sadya is definitely time consuming. I was not planning to make Sadya this time. For the past couple of days, my FB news feed has been over loaded with Sadya pics and that kind of tempted me to change my mind and make my own mini Sadya.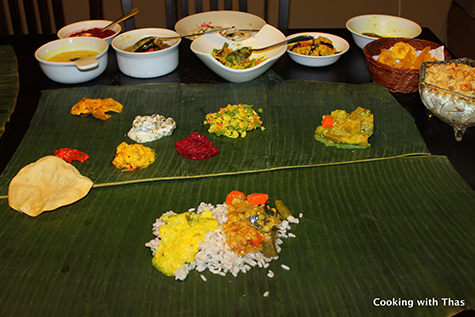 I prepared 7 kinds of dishes and served with rosematta rice on a banana leaf. For dessert, I made a different kind of payasam: Mango vermicelli payasam.
Ripe and sweet chopped mangoes cooked in sweetened milk, added vermicelli to it and garnished with saffron, ghee roasted cashews and golden raisins. It was Yummy!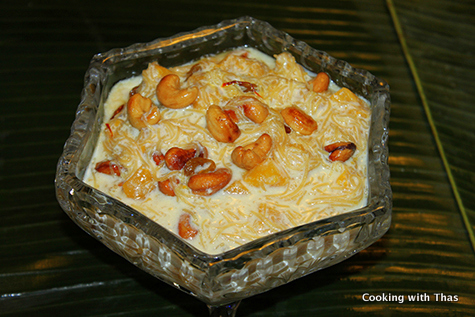 Mango Vermicelli Payasam- Mango Payasam
Ingredients
Ripe Mangoes, chopped small- 2
Roasted fine vermicelli, crushed 2 inch long- ¾ cup
Milk, whole or skim- 2½ cups
Sweetened Condensed Milk- 5 to 6 tbsp (or according to your sweet level)
Saffron strands, soaked in 1 tbsp milk- 1 pinch
Cashews, unsalted- 2 tbsp (roasted in ½ tbsp Ghee)
Golden Raisins- 2 tbsp (roasted in ½ tbsp Ghee)
Instructions
Cut the ripe mangoes very small.
You should use fine roasted vermicelli, this will cook faster.
Soak saffron strands in 1 tbsp milk for 5 minutes.
Place a saucepan over medium heat, add the chopped mangoes along with ¼ cup water and cook for a few minutes till mangoes are slightly tender.
Add 1 cup milk and condensed milk, cook for 3 to 4 minutes. Do not let the milk come to a boil.
Add roasted vermicelli and cook till it turns soft.
Add soaked saffron strands.
Add the remaining 1½ cups milk and cook for a few minutes.
Taste and add more condensed milk if you want it to be more sweet.
In a frying pan, roast cashew nuts and raisins in ghee and add to the payasam along with the melted ghee that's left in the frying pan.
Remove the saucepan from the heat and keep covered for a few minutes.
Serve in a bowl after the payasam has cooled down.
The payasam will thicken as it sits, you could add more milk to thin it down before serving.