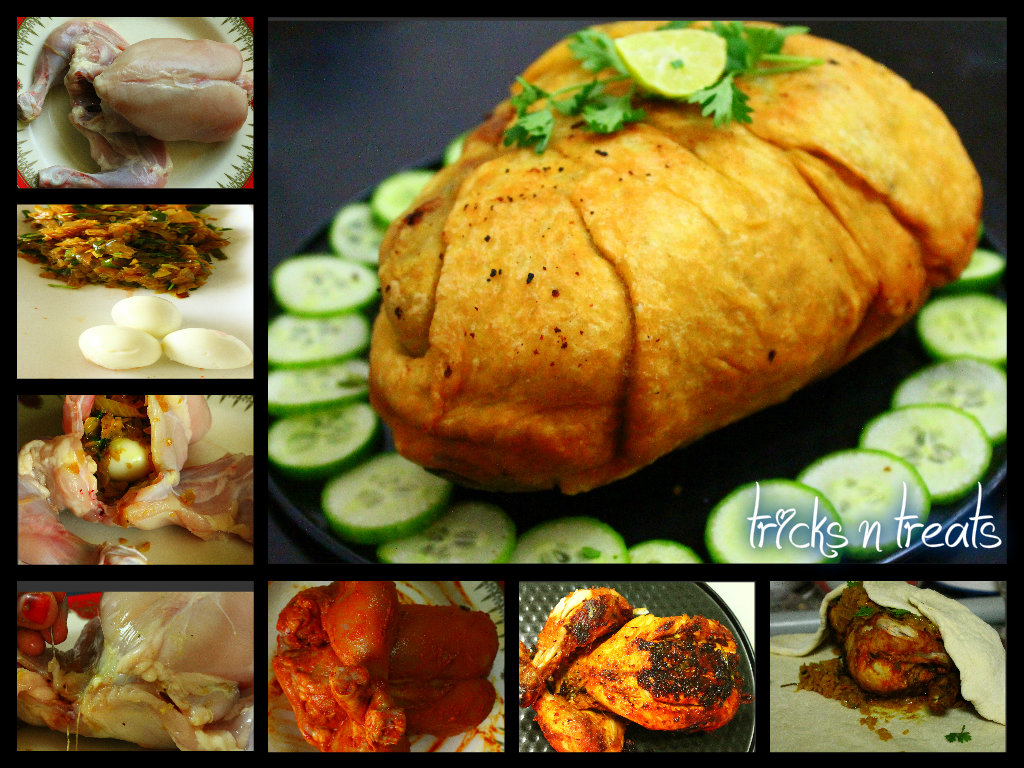 This is not my family recipe since I am from Malappuram, but from the moment I heard of this stunning name I wanted to try it. I knew this was one of the oldest and traditional Thalassery recipe. May be that's why none of my Thalassery friends could't help me with it. So I started searching for this old recipe whenever I got a chance. Finally from here and there I got an idea what it is and tried it this Ramadan. The result was a big hit in my home.  Thanx to that brilliant grandma(whoever it is) who came up with this lovely recipe.

CHICKEN PILLOW /KOZHITHALAYANA
Ingredients
Whole chicken- 600 to 800gm, clean the chicken well, make cuts on the chicken
MASALA TO FILL INSIDE CHICKEN
Onions- 4 big, chopped
Green chilies- 5 chopped
Egg-1, boiled (I used 3 quail eggs)
Curry leaves- 1 sprig, chopped
Coriander leaves- ¼ cup, chopped
Ginger-garlic paste- 1½ tsp
Garam Masala powder- 1 tsp
Turmeric powder- 1 tsp
Salt- to taste
Oil- 2 tbsp
Method
Heat oil in a wide pan, saute the onions till brown and soft.
Add green chilies, ginger-garlic paste, curry leaves and coriander leaves, saute for a few minutes.
Add garam masala and turmeric powder and saute, add salt as well.
Add boiled eggs, cook for sometime till it's combined well with the masala.
Remove the pan from the heat and let cool down.
Stuff the inside of the chicken with this egg masala.
Using a kitchen twine, tightly tie together the wings and the legs of chicken.
MARINATION MASALA
Chili powder- 2 tbsp
Turmeric powder- ½ tsp
Ginger garlic paste- 1 tbsp
Yogurt or curd- 2 tbsp
Cumin seeds or jeera crushed-1 tsp (or use ground cumin)
Ground pepper crushed- 2 tsp
Curry leaves, chopped- 1 sprig
Salt to taste
Lemon-1 tbsp
METHOD
Combine all the spices in a bowl.
Spread the masala all over the chicken.
Marinate the chicken for 1 hr.
Either first steam cook the marinated chicken and then fry or deep fry till the chicken has cooked and well done. (cook over low flame), it will take around 25 to 30 minutes
Take the chicken out of oil and keep aside.
TO MAKE 2ND MASALA
Onions- 4, chopped
Tomato- 1, chopped
Green chilies- 5, chopped
Chopped curry leaves and coriander leaves
Ginger-garlic paste- 1½ tsp
Chili powder- 1 tbsp
Garam Masala powder- 1 tsp
Turmeric powder- 1 tsp
Salt- to taste
Oil- 2 tbsp
Method
Saute all ingredients accordingly in oil. It should not contain any water. Saute till water drains out and become soft masala.
INGREDIENTS TO MAKE POORI
All purpose flour or Maida- 11/2 cups
Salt- to taste
Warm water- enough to make a dough
METHOD
Combine flour, salt and add enough water to make a soft dough.
Instructions
FINAL PREPARATION
Roll the dough to a large round shape like a poori dough, it should be big enough to cover the whole chicken.
Spread the prepared 2nd masala over the fried chicken.
Place the fried chicken and masala on the dough and slowly cover the dough all over chicken with out breaking.
Deep fry this whole chicken covered in the dough in oil over low- medium flame.
Serve hot.
Notes
If you dont appreciate deep frying, you can grill the chicken.

Instead of making poori dough, you can make batoora dough and bake it.

This is a healthy version, (but different from traditional).