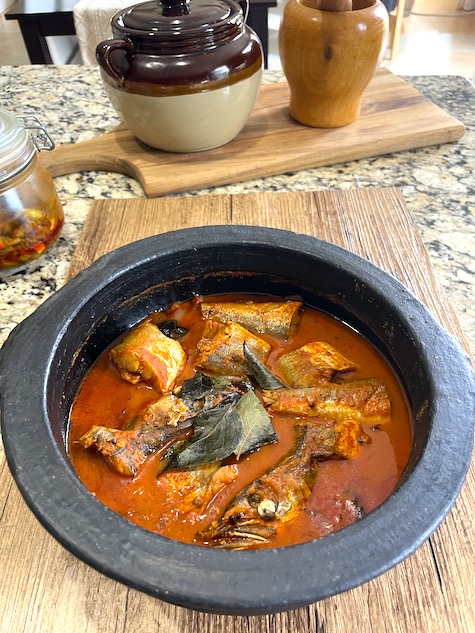 Whiting fish curry, Kerala style…
In Kerala, seafood holds an esteemed position as one of its culinary cornerstones. Be it the warmth of lunch or the comforting embrace of dinner, seafood takes center stage, with fish curries being a beloved preparation.
The preparation method is different in each district, in fact, every household takes pride in crafting their signature fish curry.
In my culinary journey, I've had the pleasure of sharing around 22 fish curry recipes, each a unique masterpiece in its own right. If you'd like to explore these flavors further, please feel free to click the link below.
The other day I bought whiting fish, I had this fish many years ago & I totally forgot the taste. I got whole fresh whiting fish. Without hesitation, I transformed it into a delightful Kerala-style fish curry.
For this particular creation, I incorporated Cambodge tamarind, known as kodumpuli, to infuse the curry with its enchanting smoky essence.
Whiting fish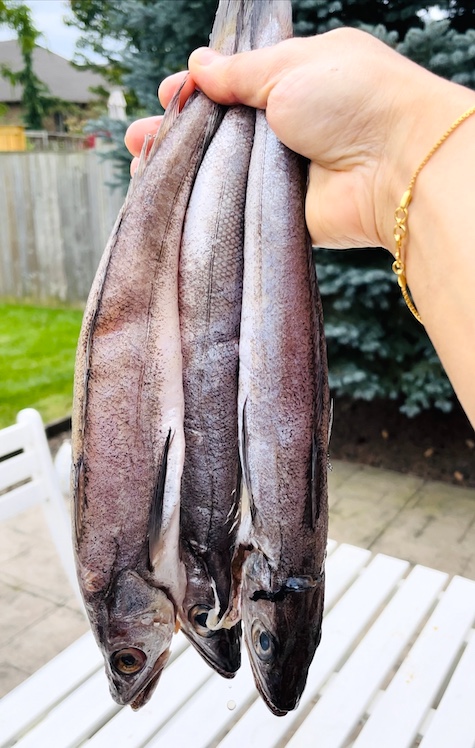 Kerala Fish Curry With Whiting Fish & Kudampuli Or Cambodge Tamarind
Ingredients
Whiting fish- 2 fish, cut into pieces (or use sardine, sea bass, sea bream, pomfret, etc)
For making spice mix
Kashmiri chili powder- 1 tbsp
Coriander powder- 2 tbsp
Black pepper powder- ½ tsp
Oil- 1 tsp
Warm water- ¼ cup
For making curry
Coconut oil- 1 tbsp
Mustard seeds- 1 tsp
Fenugreek seeds- ½ tsp
Curry leaves- 8 leaves
Shallots or small onions, chopped- 3 large shallots or 10 small onions
Tomato, pureed- 1 medium-sized
Salt- 2 tsp
Kodumpuli or cambodge tamarind- 2 pieces, soaked in 3 tbsp warm water
Warm water- ¼ cup
Coconut oil- ½ tbsp
Curry leaves- 8 leaves
Instructions
I've used 2 whole whiting fish, each fish I've cut into 4 pieces.
If the internal organs are not removed while buying them, discard the internal organs, and remove the gills from the head, cut off the fins as well.
Clean thoroughly under running water, you can add some salt while cleaning the fish.
Keep the cleaned fish aside.
In a small bowl, combine the above-mentioned spices & add ¼ cup water, make into a thick paste. keep it aside.
In another bowl, add 2 pieces kodumpuli or cambodge tamarind & add ¼ cup warm water, let soak for 15 minutes.
If you don't have kodumpuli, you can use the regular tamarind- soak 2 inch slice in ¼ cup warm water for 10 minutes, squeeze the tamarind in water, strain the juice & discard the skin.
For making pureed tomato, I just pureed 1 medium-sized tomato in a blender along with 2 tbsp water. I didn't blanch the tomato.
Place a claypot or saucepan over medium heat.
Add coconut oil, let turn hot.
Add mustard seeds, let splutter.
Add fenugreek seeds, saute for a few seconds. Don't let it brown.
Add curry leaves.
Add the chopped shallots or small onions, season with 1 tsp salt.
Saute till shallots turn golden in color.
Add the spice mix, saute for 3 minutes till the oil separates. Don't burn the spices.
Add the pureed tomato, combine well & cook for 3 minutes.
Add ¼ cup warm water, combine well.
Add the soaked kudampuli along with the water. (Kudampuli, you don't have to strain the juice, add the tamarind pieces along with the water).
If using regular tamarind, add the tamarind extract.
Add 1 tsp salt.
Combine well & let the gravy come to a boil.
Add the fish pieces & gently swirl the pan.
Close the pan with the lid & cook covered for 15 minutes.
Whiting fish is very delicate, so don't stir the curry using a spoon, to combine gently swirl the pan.
Finally, drizzle ½ tbsp coconut oil & garnish with curry leaves.
Take the claypot off the heat & keep it covered for some time.
This curry has to rest for some time, that's when it will taste delish.
Tastes better the next day.
Enjoy this fish curry with rice, chapati, appam, puttu, idiyappam, etc.
This is an easy-to-make curry, literally any kind of fish can be used.