It's spicy, it's sweet, it's sour; you get to taste all these flavors in this chicken curry…
Last weekend, I harvested a lot of tomatoes and banana peppers from my veg garden. It's been raining a lot this Summer, I really thought that the crops would be damaged by the heavy rains. Luckily, not much damages. I love growing tomatoes as it's easy to grow and they don't disappoint me much. So, I'd planted more tomato plants. Also, I'd planted banana peppers, cucumber and eggplant. I got a couple of cucumbers, eggplants are still on its way.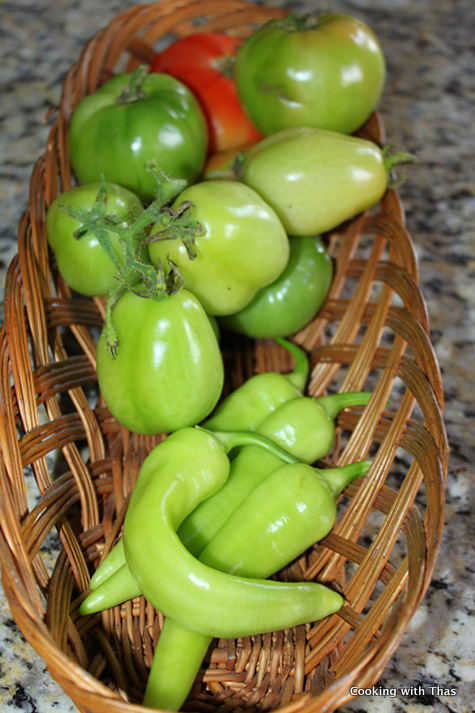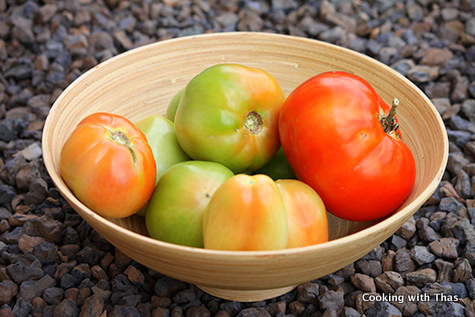 After harvesting banana peppers and tomatoes, wanted to make a dish with them. One of the common veggie dishes in South India is a spicy, sweet and sour veg curry in which chilies and tomatoes are added. It's called Pulikari in Malayalam. Chilies will impart the hotness, jaggery will impart the sweetness and tamarind will impart the sourness. Different kinds of veggies like eggplant, bitter gourd, okra can be added while making this dish.
Since I was up for making something different, all I can think of was adding chicken to this dish. At first, I felt this thought to be a bit weird. Then, I felt it's not that weird and I should just go for it. The end result was just awesome. I truly loved the harmony of all flavors in this curry and the chicken tasted great too. My man approved this recipe, so it was a win for me.
Preparation Pictures
Sweet, Spicy and Sour Chicken Curry- Chicken Pulikari
Ingredients
Chicken, bone-in pieces- 5 (I used bone in chicken thighs)
Oil- 1½ tbsp
Mustards seeds- ½ tsp
Cumin seeds- ½ tsp
Red Onion, chopped- 2
Curry leaves- 1 sprig
Banana peppers, cut round- 4
Tomato, chopped- 1, large
Coriander powder- 1 1 /2 tsp
Turmeric powder- ⅛ tsp
Fresh Tamarind juice-1/4 cup (3 inch slice soaked in ¼ cup water)
Jaggery- 2 inch slice
Warm water- ½ cup
Salt- to taste
Instructions
In a small bowl, soak the tamarind in warm water for 5 minutes. Squeeze the tamarind well into the water, drain the juice and discard the fibers.
Place a large pan over medium heat, add oil. Let the oil turn hot.
Add mustard seeds, let splutter.
Add cumin seeds, saute for a second.
Add onions along with curry leaves, season with salt and saute till onions turn translucent.
Add banana peppers, cook for a couple of minutes. You could either keep the seeds or discard them based on your spice levels. I kept a few seeds which gave the needed spice to this dish.
Add chopped tomato, cook till slightly mashed up.
Add coriander powder and turmeric powder, combine well.
Add tamarind juice, combine well.
Add jaggery, combine till it's dissolved.
Taste and add salt if needed.
Now, add the chicken pieces and cook covered till chicken has cooked well.
Open the lid and add ½ cup warm water and cook for a few minutes till the gravy thickens a bit.
Taste, if you need the curry to be more spicy add some chili powder and cook for a minute.
Remove the pan from the heat and keep covered for a few minutes.
Serve this chicken curry with rice or roti.