Theeyal is a traditional Kerala dish. It's a flavorful and aromatic thick curry made using roasted coconut and spices, resulting in a rich and deep flavor.
A variety of vegetables can be used for making theeyal like small or pearl onions, bitter gourd (pavakka), eggplant (brinjal), and drumsticks (moringa). For the non-vegetarian version, theeyal can also be made with prawns or shrimp.
The smoky & coconutty taste of the roasted coconut along with the bitter gourd & the tanginess from the tamarind makes this a delightful curry that will surely excite your tastebuds. In this dish, bitter gourd wouldn't taste that bitter, so those who dislike bitter gourd will also like this dish.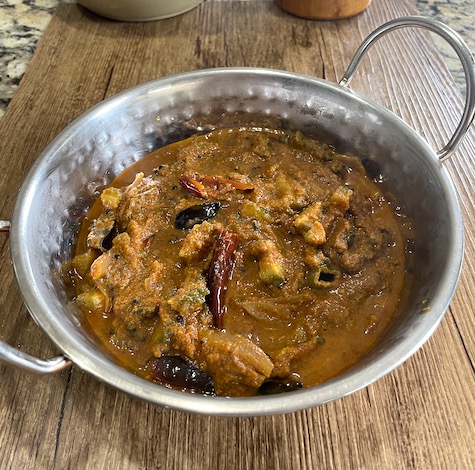 Kerala Bittergourd- Pavakka Theeyal In Roasted Coconut Gravy | Healthy Recipe
Ingredients
For roasting
Grated coconut- 1½ cups
Kashmiri chili powder- 2 tsp (for more heat add regular hot chili powder)
Turmeric powder- ⅛ tsp
Coriander powder- 1 tbsp
For making curry
Coconut oil- 1 tbsp
Mustard seeds- 1 tsp
Dried red chilis- 2
Curry leaves- 8 leaves
Shallots or small onions- 3 large shallots halved or 8 small/pearl onions
Bitter gourd, sliced- 2 cups (fresh or frozen)
Green chilies, halved- 2
Water- ½ cup
Tamarind extract- ½ cup (2-inch slice fresh tamarind soaked in ½ cup lukewarm water)
Ground coconut
Salt- 1½ tsp
Water- ½ cup
Instructions
Soak 2-inch slice fresh tamarind in ½ cup lukewarm water for 5 minutes, after that squeeze the tamarind in water, strain the juice & discard the skin.
Place a large pan over medium heat, add oil.
Add grated coconut, saute till the coconut turns golden brown in color.
Keep stirring the coconut otherwise the coconut will burn.
After the coconut turns brown, lower the heat & add Kashmiri chili powder, turmeric powder & coriander powder, combine well.
If you want this curry to be very spicy, add regular hot chili powder.
Take the pan off the heat & let the roasted coconut cool down completely.
Add the roasted coconut to a blender along with 1 cup water & grind to a smooth paste.
Place a clay pan or saucepan over medium heat.
Add coconut oil, let turn hot.
Add mustard seeds, let splutter.
Add dried red chilies & curry leaves.
Add shallots, saute for a minute.
I've added 3 large shallots sliced, if you have small or pearl onions add the whole small/pearl onions.
Add the sliced bitter gourd (fresh or frozen can be added), combine well.
Add green chilies, halved, along with ½ cup water.
Cook covered for a few minutes till the bitter gourd has turned slightly soft.
Add the tamarind extract, combine well.
Add the roasted ground coconut, combine well.
Rinse the blender jar with ½ cup water, add that to the pan.
Season with 1½ tsp salt.
Cook covered for a few minutes till the bitter gourd turns soft.
If it's getting dry, add ¼ cup warm water & cook.
Open the lid, cook uncovered for 3 minutes till the gravy thickens.
Theeyal is a thick curry.
Take the pan off the heat & cook covered for a few minutes.
In Kerala, this curry is enjoyed with matta rice for lunch, also goes well with chapati & appam.
Instead of bitter gourd: okra or lady's finger, moringa or drumsticks, eggplant or brinjal, small/pearl onions (ulli theeyal), or prawns/shrimp can be added.