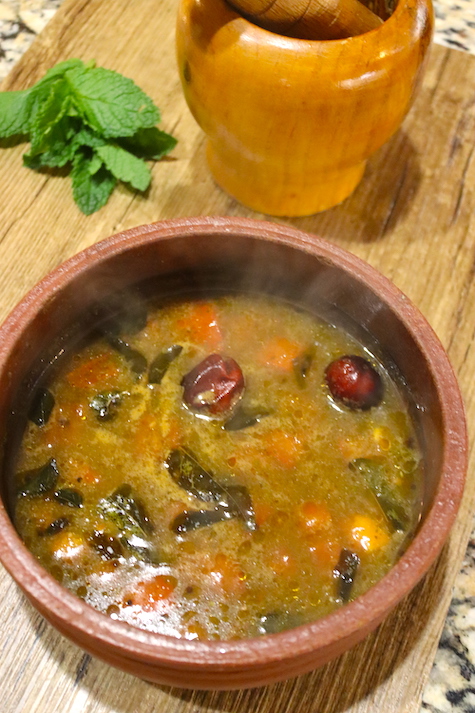 Rasam, South Indian refreshing & comforting curry…
Rasam is a popular South Indian curry that is known for its tangy and spicy flavor. It is a traditional dish that is commonly prepared in Tamil Nadu, Karnataka, Kerala, and other parts of South India. Rasam is typically served as a part of a meal and is often consumed with rice.
Rasam is known for its unique flavor profile, which combines the tanginess of tamarind, the spiciness of black pepper, and the earthy notes of other spices. It is a comforting and soothing dish, particularly enjoyed during cold or rainy weather. It has several health benefits, as the spices used in its preparation are known for their digestive and immunity-boosting properties.
When I'm down with cold & flu, rasam comes to rescue me. I enjoy it as soup or combined with rice. A bowl of hot & spicy rasam has the power to make me feel better instantly.
There are many variations of rasam, in Karnataka lentils are added while in Kerala lentils are not usually added while making rasam.
I'm gonna share the recipe for making rasam without lentils, I've added tomatoes, mint & other spices.
Absolutely satisfying dish, enjoy as it is as a soup or pour over rice & enjoy.
Rasam - With Tomato & Mint, Refreshing Comforting South Indian Curry
Ingredients
To grind
Shallots- 1 large or 3 small onions
Ginger- 2-inch slice
Garlic- 3 cloves
Mint leaves- 8 leaves
Cilantro, chopped- ¼ cup
Tomato, chopped- ½ of a tomato
Whole peppercorns- ½ tsp
Cumin seeds- 1 tsp
Water- ¼ cup
For cooking
Coconut Oil- 1 tbsp
Mustard seeds- 1 tsp
Dried red chilies, halved- 2
Curry leaves- 8 leaves
Salt- 1½ tsp
Asafoetida- ⅛ tsp
Tamarind extract- ½ cup
Tomato, chopped- 1, small sized
Water- 1 cup
Instructions
To a blender jar, add all ingredients mentioned to grind & grind to a coarse paste.
Soak 2-inch slice fresh tamarind in ½ cup lukewarm water & let soak for 5 minutes. After that squeeze the tamarind in water to extract the juice, strain the juice & discard the skin.
To a hot clay pan or saucepan, add oil.
Add mustard seeds, let splutter.
Add dried red chilies & curry leaves.
Add the ground paste, combine well & cook for a minute.
Rinse the blender jar with ½ cup water & add that. Cook for a few minutes till the raw smell goes away.
Add salt & asafoetida, combine well.
Add tamarind extract, cook for 2 minutes.
Add chopped tomato & cook for a couple of minutes. Adding tomato is optional.
Add ½ cup water to thin down the gravy & cook for a few minutes, let rasam come to a slight boil.
Take the pan off the heat, enjoy as soup or pour over rice & enjoy.