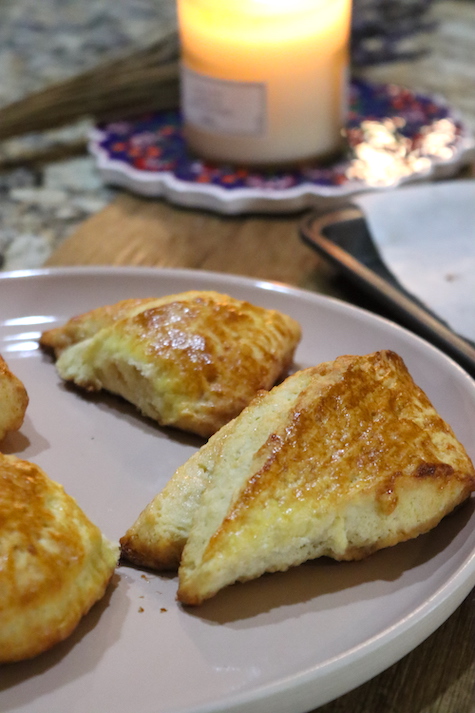 Scones are a type of baked good that originated in Scotland and are popular throughout the United Kingdom and in other parts of the world. They are typically made from flour, sugar, baking powder, butter, milk or cream, and sometimes eggs. Scones are often served for breakfast or as an afternoon tea snack.
Scones come in a variety of flavors, including plain, fruit, cheese, and savory. They are usually baked in the oven until they are golden brown on the outside and soft on the inside. Scones are often served with butter, jam, or cream, and are best enjoyed with a hot cup of tea.
These are jam-filled scones, flaky, and buttery with the right amount of sweetness. Even those without a sweet tooth will enjoy scones.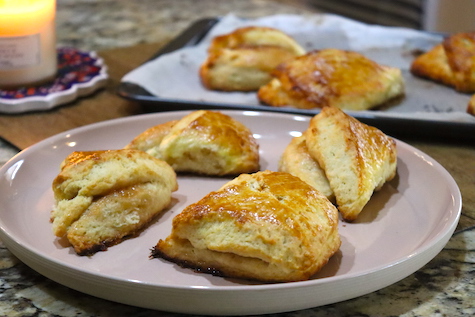 Recipe Courtesy: Joy Of Baking

Jam Filled Scones | Easy Recipe
Ingredients
All-purpose flour- 2 cups
White sugar- ½ cup
Baking powder- 2 tsp
Salt- ¼ tsp
Unsalted butter- ½ cup, diced
Egg- 1 large, at room temperature
Vanilla extract- 1 tsp
Cream- ½ cup (half & half or heavy whipping cream)
Strawberry or other flavored jam- ¼ cup
Egg wash
Instructions
Preheat oven to 400 F or 200 C.
In a bowl, add flour, sugar, baking powder & salt; combine well.
Slightly soften the butter, warm it up in the microwave for 20 seconds.
Dice up the butter & add to the flour mix.
Using a fork break the butter & mix well with the flour.
The flour mix should form like crumbs.
In another bowl, using a whisk combine egg, vanilla extract & cream.
Add this to the flour mix & combine well till a soft dough has formed.
Make it into a round shape.
Line a baking sheet with parchment paper.
Place the dough on the parchment paper.
Half the dough & roll each dough into an 8-inch round shape.
In a bowl, whisk together egg & cream.
Spread the jam on one of the rolled dough.
Any kind of jams or preserves can be used.
Spread the egg wash on the edges of the rolled dough.
Place the other rolled dough over it.
Seal the edges well & using a fork press on the edges will create fork indents.
If the edges are not sealed well, it will separate while baking.
Using a pizza cutter, half the dough, again half the halved dough, cut into 8 triangular shapes.
Spread the egg wash over the triangles.
Place the pan in the preheated oven & bake for 18 minutes till the scones have baked well & the top has turned golden in color.
Let cool down & enjoy.
This tastes good when enjoyed right away.
Leftovers can be kept in the refrigerator for 2 days.