Aromatic and best-tasting shrimp pulao cooked in the Instant Pot…
This is a perfect one-pot meal for lunch or dinner, cooked effortlessly in the Instant Pot.
Easy to whip up & delicious pulao with shrimp; ready in less than 15 minutes.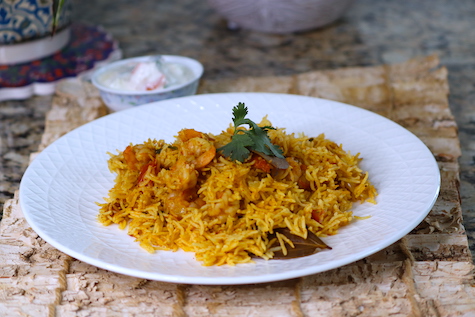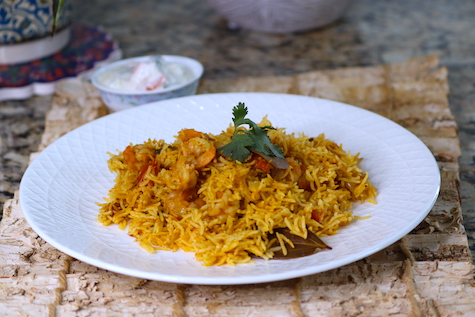 Instant Pot Shrimp Pulao- Easy & Delicious One-Pot Meal
Ingredients
Ghee- 2 tbsp
Dried bay leaves- 2
Onion, sliced- 1, large
Ginger-garlic paste- 1 tbsp
Tomatoes, chopped- 2
Curry leaves- 10 leaves
Chili powder- 1 tsp
Turmeric powder- ⅛ tsp
Coriander powder- ½ tbsp
Fennel powder- 1 tsp
Garam masala- 1 tsp
Salt- 1½ tsp
Shrimp- 25 to 30, deveined & shelled
Water- 2¼ cups
White basmati rice, rinsed- 2 cups
Cilantro, chopped- ¼ cup
Fresh mint leaves, chopped- 10 leaves
Instructions
Take the basmati rice in a strainer & rinse in water, keep it aside.
Turn on saute setting in the Instant Pot, medium temperature.
Let the stainless steel pot turn hot.
Add ghee, and dried bay leaves.
Add onion & ginger garlic paste, saute for 2 minutes.
Add chopped tomatoes, saute for a minute.
Add curry leaves, this is optional.
Add all the spices- chili, turmeric, coriander, fennel, garam masala & salt; combine well.
Add the shrimp, combine well.
Add water & rinsed basmati rice.
Immerse the rice completely in the water.
Add chopped cilantro & mint leaves.
Close the pot with the lid.
Cancel saute setting.
Select pressure cook setting, time 6 minutes at high pressure.
After 6 minutes of pressure cooking, let the pressure release naturally for 5 minutes & then do a quick pressure release.
Open the lid.
Aromatic & perfectly cooked shrimp pulao, basmati rice will be soft & fluffy.
Enjoy with raita, pickle & pappad.