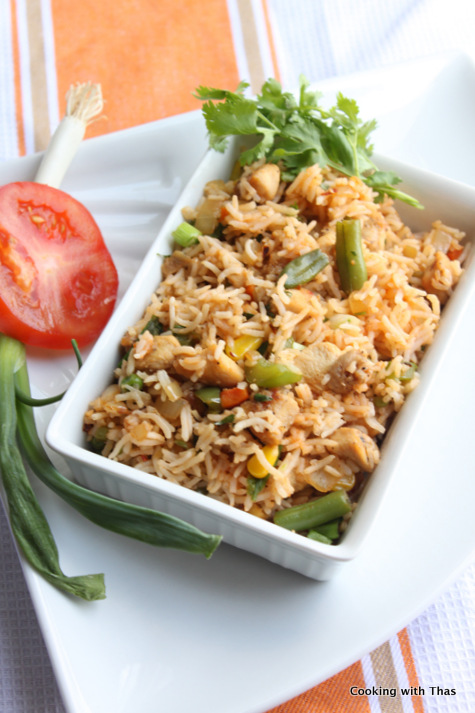 Chinese style chicken fried rice made with shallow fried chicken, mixed veggies and basmati rice; delicious one pot meal…
I am eagerly waiting for tomorrow to celebrate my blog's 5th anniversary, in fact I'm already in the celebration mood 🙂 I couldn't be any prouder of me blogging with so much passion for the past 5 years. Also, can't believe I 've been doing this for the past 5 years without any break. I'll write more about my blogging experience and memories in an another exclusive post.
My Man and I have a new hobby now, it's bird feeding and watching the birds enjoy their food. A couple of days ago, we hung two bird feeders in our backyard and we placed lots of bird seeds in it. Since then, we have been having a lot of birds visiting our backyard. It's so peaceful and relaxing to see the birds eating their food and having fun. I've been seeing so many different kinds of pretty birds, wish I knew what kind of birds they were. We watched them through the glass doors and clicked so many pictures as well. It's nearly impossible to go near them as they would fly away if we open the door. These are the little pleasures of life that make me happier.
Sharing a couple of pictures with you all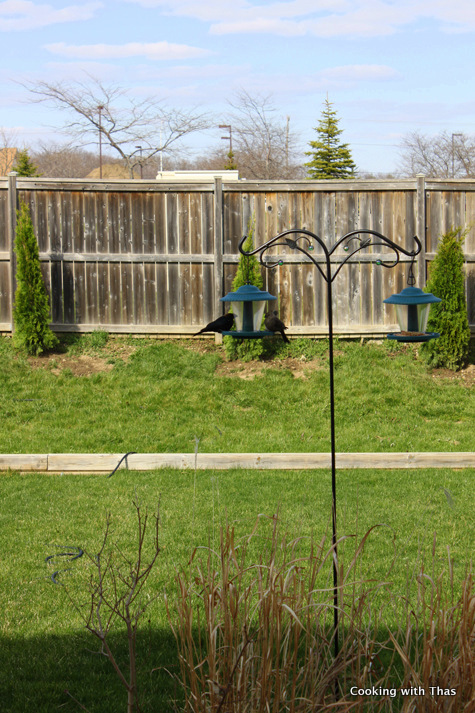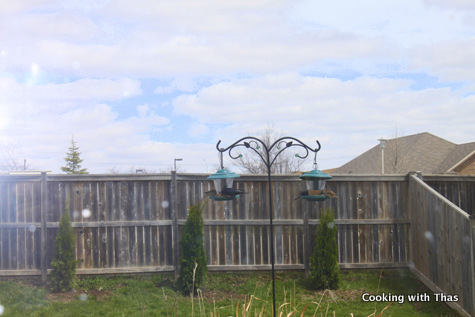 One of the one pot dishes that I love the most is this chicken fried rice. I make this when I have guests over or when I feel like having a simple one pot meal. This is such a flavorful dish and you get to enjoy chicken, veggies and rice in one dish. I serve this with raita or yogurt sauce.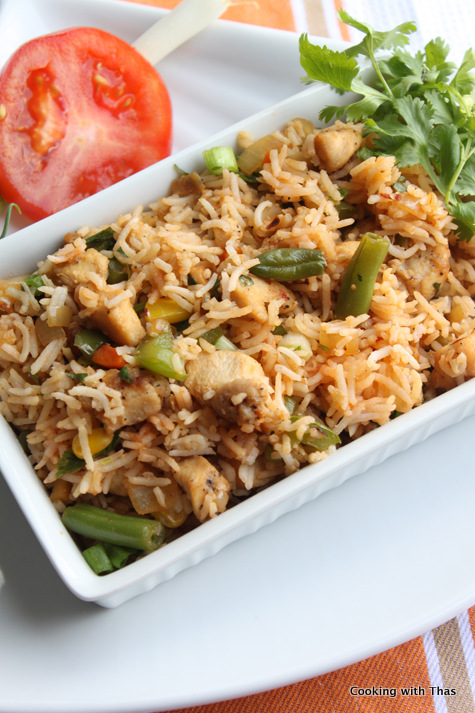 Chicken Fried Rice - Indo-Chinese Fried Rice
Ingredients
For marinating chicken
Chicken breasts or thighs diced small- 2
Ginger garlic paste- ½ tbsp
Soy sauce, low-sodium- 1 tbsp
Corn starch- 1 tbsp
Ground pepper- ¼ tsp
Rice vinegar- 1 tbsp
Salt- 2 pinches
For shallow frying chicken
For cooking rice
Basmati rice- 1½ cups
Salt- a few pinches
Water- 2½ cups
While cooking
Oil- 2 tbsp (used for frying chicken)
Ginger, chopped- 1 inch slice
Garlic, chopped- 2 cloves
Dry red chili flakes- 1 tsp
Onion, chopped small- 1
Green pepper, chopped small- 1, small
Mixed veggies, chopped small- ½ cup
Soy sauce- 3 tbsp
Hoisin sauce- 2 tbsp
Sambal Oelek or chili paste- 1½ tsp
Tomato ketchup- 1 tbsp
Ground pepper- ⅛ tsp
Cilantro, chopped- ¼ cup
Green onions, chopped- 1 stalk
Instructions
In a bowl, combine all the above mentioned ingredients "for marinating chicken", keep aside for 10 minutes.
Place a wok or non-stick pan over medium heat, add oil for shallow frying chicken.
Drop the chicken pieces and shallow fry till it turns golden in color, fry in two batches. Keep aside the fried chicken on a kitchen paper towel.
Cook the rice in a rice cooker; combine basmati rice, water and salt and cook the rice.
In the same wok used for frying chicken, add 2 tbsp oil or use any leftover oil from frying chicken.
Add chopped ginger and garlic, saute till light golden in color.
Add dry chili flakes, saute for a few seconds.
Add onion, season with salt and stir fry till translucent.
Add mixed veggies and green pepper, stir fry for a few seconds till veggies turn tender.
Add the fried chicken, combine well.
Add soy sauce, hoisin sauce, sambal oelek, tomato ketchup and ground pepper; combine well.
Add the cooked rice, combine well and stir fry for a couple of minutes.
Taste and add more salt if needed.
Finally, add cilantro and green onions, stir fry for a minute.
Serve in a platter and enjoy with raita or pickle