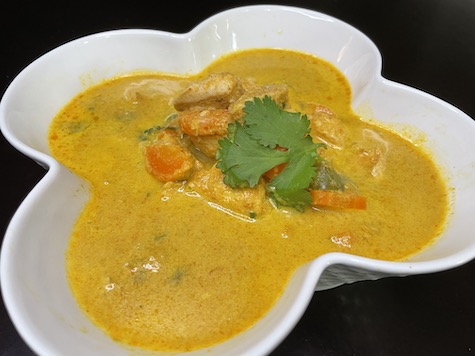 Easy & delicious carrot chicken cooked in the Instant Pot…
My hubby's recipe & it's been one of the best chicken dishes cooked in the Instant Pot. Whenever he cooks in the Instant Pot, this is what he makes & turns out delicious every single time.
Chicken cooked in a rich, creamy & coconutty gravy. Super easy to make with very few ingredients. In the Instant Pot, will be ready in just 15 minutes.
Can be enjoyed with rice, pasta, noodles, pita bread or enjoy it as a soup.
Cooking Video
Instant Pot Easy Carrot Chicken Recipe | 15 Minutes
Ingredients
Oil- 1 tbsp
Onion, chopped- 1 large yellow onion
Carrot, sliced thin- 2
Green pepper, diced- ½ of a green pepper
Salt- ½ tsp
Water- ½ cup + ¼ cup
Boneless chicken breasts, diced- 2 breasts or thighs
Kashmiri chili powder- 1 tsp
Turmeric powder- ⅛ tsp
Coriander powder- 1 tbsp
Salt- 1 tsp
Coconut milk, thin- 1 cup
Cilantro, chopped- 2 tbsp
Instructions
Slice the carrots thin.
Turn on the Instant Pot, select saute setting, temperature should be medium or normal.
Let the stainless steel pot turn hot.
Add oil, onion, and season with ½ tsp salt.
Add carrots & green pepper, saute for 3 minutes.
Don't overcook the veggies.
Add half of the cooked veggies to a blender jar, keep the remaining veggies in the pot.
Add ½ cup water & puree.
Transfer the pureed veggies back to the pot.
Rinse the blender jar with ¼ cup water & add that to the pot.
Add chicken, spices & 1 tsp salt, combine well.
Close the pot with the lid.
Select the Pressure cook setting, set the time to 5 minutes at high pressure.
After 5 minutes of pressure cooking, let the pressure release naturally for 5 minutes & then do a quick pressure release.
Open the lid, combine well.
Add coconut milk, combine well.
Select saute setting, temperature should be medium or normal.
Cook for 2 minutes.
If you want a thick gravy, cook for a few more minutes till the gravy thickens.
Garnish with cilantro.
Serve in a bowl & enjoy with rice, pasta, noodles, pita bread or as a soup.