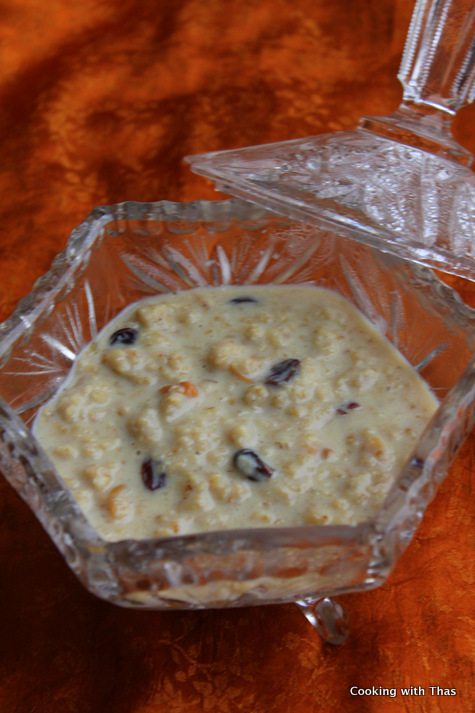 Payasam that can be made in just a matter of minutes and still tastes yummy…
Hope all Keralites had a fantastic Onam. I have written so much about Onam and Sadya in my previous posts so I am not starting all over again. FB is flooded with the pictures of Sadya, I can hardly resist. I first thought of making Sadya last weekend, but I found way too comfortable on my couch and the gloomy rainy weather made me to cuddle up more. On Monday, all my malayalee friends shared the pictures of sadya on fb and on whatsapp, I drooled over it and made up my mind to make my own version this weekend. I feel so determined right now, hope it stays like that till Saturday.
Sadya is not the name of one dish, it's a huge grand spread of around 15 to 20 vegetarian dishes on a banana leaf. Sadya has all kinds of dishes, from spicy to sweet to sour to tangy, your taste buds will dance with joy. On Sunday, I detached myself from the couch for a few minutes and made a dessert or payasam that can be served for Sadya. Payasam is basically a sweetened milk, in which vermicelli, rice or pastas are added. This time, I wanted to try a payasam shared by one of my good friends Athira, Oats and dried nuts payasam. I am up for trying anything new and different. As I read the recipe, I was sure that this payasam was going to taste yummy. And it took only a few minutes to whip up this payasam. Anything that can be made easily and that tastes yummy will become my companion.
If there is anyone like me who is planning to make Sadya next weekend, then you might want to stop at my Sadya post. I have so many recipes.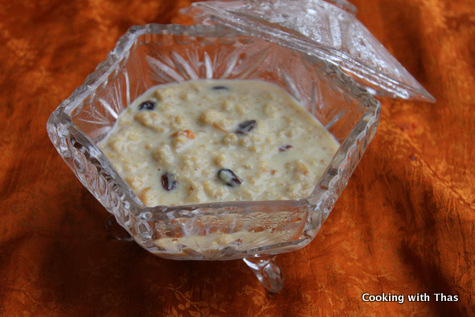 Oats and Dried Nuts Payasam - Oats in Sweetened Milk
Ingredients
Oats, instant- 1½ cups
Jaggery or brown palm sugar- 5 inch slice or depending on your needs
Water- ¼ to ½ cup to melt the jaggery
Milk- 2 cups
Ghee- 6 tbsp
Cashew nuts, whole- 15
Almonds, halved- 2 tbsp
Raisins- 2 tbsp
Dates, chopped- 5
Instructions
Place a pan over medium heat, add 3 tbsp ghee, add oats and roast in ghee till light golden. Keep aside.
Roast the almonds, raisins and cashewnuts in 2 tbsp ghee till golden in color, keep aside.
Add the jaggery slices to water, heat the water and let jaggery melt completely.
Use jaggery according to your sweet level.
Place a saucepan over medium heat.
Combine milk and melted jaggery together, let heat through.
Add roasted oats, keep stirring and cook for a couple of minutes, the mixture will start to thicken.
Add the roasted cashew nuts, raisins, almonds and dates, combine to the oats. Cook for a minute.
If the mixture is too thick, add more milk to thin it down.
Taste and add more melted jaggery if needed.
Finally, drizzle 1 tbsp ghee over the oats payasam and remove the pan from the heat.
Serve warm in a dessert bowl.
Notes
I used light colored jaggery, hence the light color of the payasam. Use dark brown jaggery to get a beautiful brown colored payasam.

Jaggery is a must, don't replace with sugar.