Rich, creamy & delicious pumpkin soup made in the Instant Pot with just 5 ingredients…
This is a perfect soup for Thanksgiving. Curry powder is added to flavor up the soup & coconut milk imparts a nutty taste.
Comforting & delicious soup to enjoy on any day.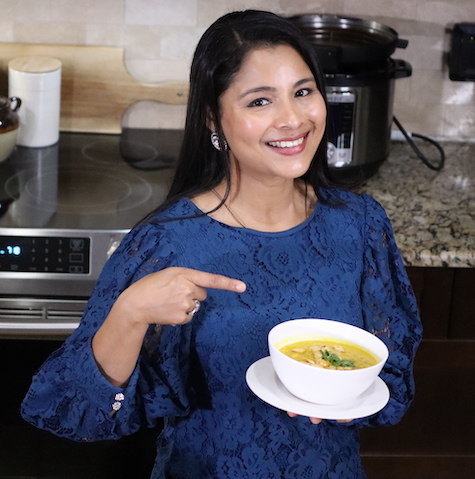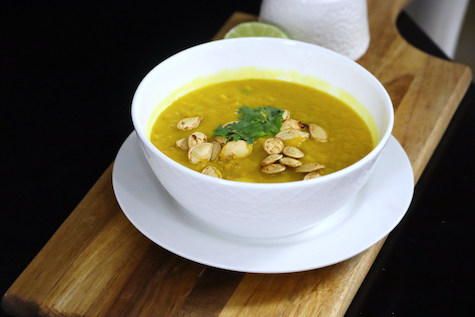 Cooking Video
5 Ingredient Easy Curried Pumpkin Soup | Instant Pot Recipe
Ingredients
Pumpkin, diced- 1 small pumpkin (4 cups)
Red lentils- 1 cup, rinsed
Salt- 1 tsp
Chicken stock or vegetable stock- 3 cups
Curry powder- 1 tbsp
Thin Coconut milk- 2 cups
Lemon juice- ½ tbsp
Cilantro, chopped- ¼ cup
Salt- ½ tsp
For roasting pumpkin seeds
Paprika- ½ tsp
Ground black pepper- 1 few pinches
Salt- a few pinches
Instructions
Use a small pumpkin that is used for making pies & for roasting.
Half the pumpkin & dice them into large chunks.
Save the pumpkin seeds, we can roast the seeds & top the soup.
Using a peeler, peel off the skin.
Dice up the pumpkin.
Add the peeled & diced pumpkin along with red lentils & 1 tsp salt to the stainless steel pot.
Add chicken stock or vegetable stock, or a combination of water & chicken bouillon cube.
Close the pot with the lid.
Select pressure cook setting, set the time to 15 minutes at high pressure.
After 15 minutes of pressure cooking, let the pressure release naturally for 5 minutes & then do a quick pressure release.
Open the lid, using a spoon mash up the pumpkins.
Pumpkins will be completely mashed up, so don't have to puree in a blender.
Select saute setting, temperature should be medium.
Add curry powder, combine well.
Add coconut milk, combine well.
Cook for 4 minutes.
If the soup is too thick, add chicken stock to thin it down.
Add lemon juice & cilantro. Combine well.
Take the pot out of the main pot.
Serve in soup bowls, top with roasted pumpkin seeds.
How to make air fried pumpkin seeds
Clean the pumpkin seeds under running water, pat dry with a paper towel.
Add paprika, a few pinches of ground black pepper & salt. Combine well.
Add to the air fryer basket. Or roast in the oven, at 375 F for 15 to 20 minutes till the seeds turn crispy.
I've used T-Fal actifry air fryer.
Air fry for 18 minutes, pumpkin seeds will turn crispy.
Enjoy this rich & delicious curried pumpkin soup.